Limited edition prints are 'declaration of thoughts toward city that inspires him'
Related Links
URBAN REMADE
www.urbanremade.com
T: 020 8 747 8104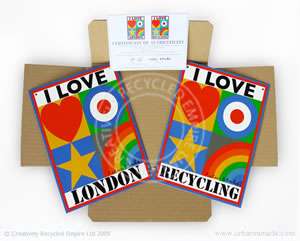 For free delivery remember to quote 'ChiswickW4' in your order
Sign up for weekly email newsletters from ChiswickW4.com
Chiswick based online store Urban Remade have been working with local artist and god-father of Pop Art, Sir Peter Blake on a pair of limited edition prints.
Robert Taylor explains, "The collaboration began when Sir Peter showed interest in our project to recycle London Underground and bus seating fabric in their ABOVE+BELOW LONDON footwear range.
"It's been really exciting to work with him. He is a real gent. Although extremely busy, he seems exceptionally calm and oozes a relaxed and thoughtful state of mind that is infectious.
"As a very keen recycler, his latest works; 'I LOVE LONDON' and 'I LOVE RECYCLING' are as always, totally on message. They are a public declaration of his thoughts and feelings toward the city that continues to inspire him and his creativity."
The two works were unveiled last week at the National Recycling Awards 2009. Even at £30 each Urban Remade want to make these most recent examples of Sir Peter's 'art for all' series even more affordable by offering registered members of ChiswickW4.com free delivery in the run up to Christmas.
Commissioned in 2009 by Creatively Recycled Empire and each measuring 169mm x 219mm the artworks are beautifully reproduced using ten vibrant spot colours and are hand-finished in the UK. This is a limited edition, only 5,000 pairs worldwide, featuring the artist's iconic heart, target, star and rainbow motifs. It is printed using a vibrant 10 spot colour lithographic process onto 56% recycled tinplate. Available singly, collectors and investors should buy the set before they all go!
Sir Peter Blake is one of the UK's, if not the World's, best known artists alive today. He is a painter of urban realist subjects and pioneer of 'Pop Art'. Many in the art world consider Sir Peter the father of the movement as his Captain Webb Matchbox piece pre-dates Andy Warhol's soup tin paintings.
Throughout his career Blake's interest in images from popular culture has infused his collages and has been central to his paintings. He was knighted in 2002 for his services to art. As well as designing the logo for Live Earth, Sir Peter (who is a keen recycler himself!) is known for producing the cover artwork for Band Aid's; "Do They Know it's Christmas" single, Oasis, Paul Weller, The Who and of course the famous cover for the Beatles "Sgt Pepper's Lonely Hearts Club Band" album, which may forever associate him with the decade of swinging 60's London.


November 5, 2009