Service branded 'shambles' as bins go uncollected for more than a month
Residents' recycling woes appear to be continuing despite Hounslow Council's new service having almost four months to bed down.
The main complaint remains uncollected bins. One resident who lives on Chiswick High Road told ChiswickW4.com, "Since the new system was introduced, we have not yet had a complete recycling collection. Our food and plastic bins have not been collected for well over a month now and the food bin is covered in mould and smells disgusting. There are young children living here - it is a real health hazard.
"We've called the council repeatedly but the number is usually engaged. We have managed to get through to report the problem four times but still nothing has been done. The whole thing is a shambles."
Back in March Hounslow Council branded their service 'unacceptable' after residents complained in their 1,000's about the new waste and recycling scheme
Cllr Barbara Reid issued an apology to residents on behalf of Hounslow Council for the "unacceptable performance" by waste and recycling contractor SITA stating, "We are working on an hourly basis with council staff and the contractor to improve the service. We did expect some problems but the service is unacceptable and residents are quite rightly annoyed."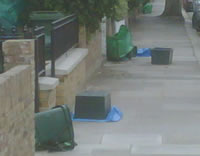 Although a number of issues have been dealt with, residents continue to complain about missed collections and bins and bags not left back where they should be.
A resident of Duke Road sent us the photo (right) saying, "It's ridiculous, sometimes it's so bad can hardly use the pavement on collection days! It's so dangerous especially considering there are two schools at the end of the road."
A council spokesperson said, "Most of the missed collection issues have now been resolved. There are a few specific locations where there are still some collection problems but this is reducing every day. There have been some problems with reported missed collections not being cleared in the correct timeframe.
"The council is taking the matter most seriously and there are regular meetings with the contractor both at an operational and senior level. The default mechanism, where the contractor has a financial penalty for missed collections, has been in operation since Monday 23 March.
"Even though these instances are now affecting only a small percentage of residents, they still need to be resolved quickly and finally.
"As we are well on the way to resolving the missed collection issues, we are now focussing on improving service quality, such as the return of containers to residents' properties. This is of great importance to residents who expect and deserve a first class system, and on which we intend to deliver.
If you are encountering problems with your collections please email recycling@hounslow.gov.uk or call 020 8583 5555.
Collection days can be checked here.

June 17, 2009