Locals demand compensation for disruption caused by Prestolite Development
Related Links

New plans for former Prestolite Factory

Full details of the application and drawings can be viewed here (please note that many of these are large documents and can take some time to download).

Comments can be emailed to the planning officer here

The plans will be discussed by the Planning Committee at a public meeting at 7.00pm on Wednesday 18th October at Hammersmith Town Hall.


Participate
Receive a free email newsletter from HammersmithToday.co.uk, ActonW3.com and ChiswickW4.com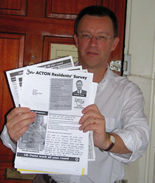 Andrew Steed, a resident of Valetta Road, adjacent to the Prestolite Development site, recently launched a consultation about the problems that local residents are experiencing relating to the Prestolite Development on Larden Road.
Local residents responded complaining at the dust, noise pollution and the large number of lorries that go past her house at 6.30am in the morning.
Residents have also said that even though the development on the boundary of Hounslow, Hammersmith and Ealing, Ealing Council has not done enough to secure compensation for the inconvenience of the large development.
Andrew Steed said "The local Lib Dems have contacted the developer, Genesis, stating the need for a proper dialogue with residents who are not happy about the development and its impact on local people."
Andrew added "I am also concerned about the bigger picture where there are at least two other substantial developments taking place which will result in a significant increase in the number of residents in the area, without providing extra doctors, post offices, transport facilities and other local services."
Is it estimated that 1,700 people will reside on the site with more working in the commercial units. In their statement supporting their planning application, GHG said that they are prepared to enter into a legal agreement which would see them making significant financial contributions towards local education and transport improvements. They believe that their scheme is consistent with planning policies and would deliver attractive new housing, job opportunities, high quality public realm areas and regeneration to the Borough.
The plans will be discussed by the Planning Committee at a public meeting on Wednesday 18th October at Hammersmith Town Hall. The meeting will begin at 7.00pm.
September 13, 2006