Safer sex campaign launched
Related Links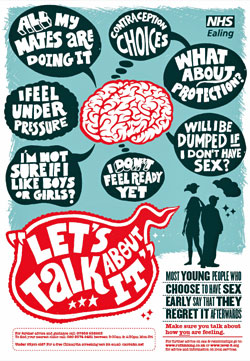 Participate
Comment on this story on the forum
Ealing council has launched a new poster campaign to encourage young people to talk more openly about sex.
'Let's Talk About It', is being run during the first two weeks of February and is aimed at reducing teenage pregnancies, changing attitudes towards relationships and safer sex.
Research shows that young people are particularly susceptible to taking risks at two times in the year - Valentines Day and around Christmas - spikes in the annual teenage pregnancy rates can be traced back to these times of the year.
The message seems to be getting through in Ealing however as the number of teenage pregnancies in the borough has dropped to its lowest levels since 1998, with a 21 per cent drop in the rate of conceptions.
For more help and advice on safer sex visit the websites www.ruthinking.co.uk or www.level-8.org or call 07958 658223.
3rd February 2011