Daryn and Seth will patrol the town centre, streets and parks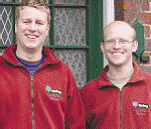 Acton's new Rangers are now settled in their jobs and ready to meet Acton residents and businesses.
Daryn Hiltunen is the new new Town Centre Ranger and he will patrol the streets and talk to residents, shoppers and
businesses. He will report and investigate a range of services that affect Acton's town centre, from
graffiti to rubbish removal.

Seth Cornfield has taken on the role of Streets and Park Ranger.
You can meet them both at the Action Acton offices on Wednesday afternoons 2-4 p.m., call 020 8740 1855 or email hiltunend@ealing.gov.uk
May 30th, 2005