Drivers and taxis face £15 charge to drop off passengers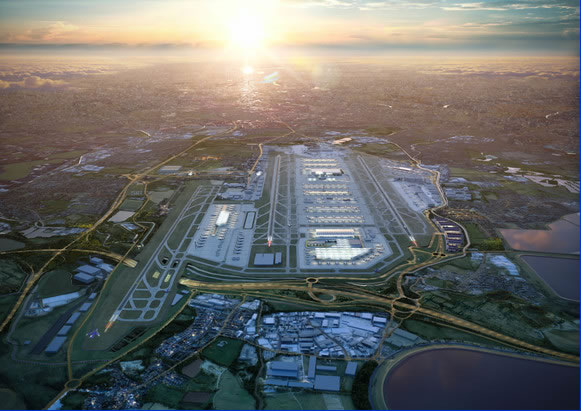 Heathrow Airport has announced it will introduce its own version of the Ultra Low Emission Zone ( ULEZ) from 2022 to cut emissions, known as the HULEZ.
Vehicles which fail to meet the same minimum emission standards as apply with the ULEZ introduced for central London, will face a charge of £10- £15.
This affects diesel cars registered before September 2015 and petrol cars pre-dating 2005.
The charge will apply to all cars and taxis irrespective of emissions if a third runway is opened in 2026.This will be known as a vehicle access charge (VAC) and will be levied on all passenger cars, taxis and private hire vehicles coming to car parks or drop-off areas.
The airline is also launching a campaign to encourage more staff to take public transport to work.
The scheme is aimed at minimising the added pollution resulting from a third runway.
The airport said charges will help fund new measures to improve sustainable transport modes at the airport and public transport access proposed as part of Heathrow's expansion plans.
The airport's sustainability strategy report this month pointed out that significant investments were being made to offset emissions and speed up electric flight, supporting the airport's goal to become carbon neutral by 2020 and to operate zero carbon airport infrastructure by 2050.
Initiatives include a project to restore UK peatlands to offset carbon emissions, more electric vehicles and charging points, investment in the development of sustainable fuels, a pledge to waive a year's landing charges for the first electric or hybrid aircraft put into regular service at Heathrow, along with research into future infrastructure to support electric aircraft and technologies.
Heathrow Chief Executive John Holland-Kaye said:
"Heathrow Expansion is not a choice between the economy and the environment – we must deliver for both. Today's announcement shows that we will take the tough decisions to ensure that the airport grows responsibly."
Heathrow will be consulting on proposals for its surface access strategy, including Heathrow ULEZ and Heathrow VAC, in a statutory consultation on the preferred masterplan for expansion which will be launched on 18 June.
May 24, 2019