Only 29% of Hounslow borough residents oppose Heathrow expansion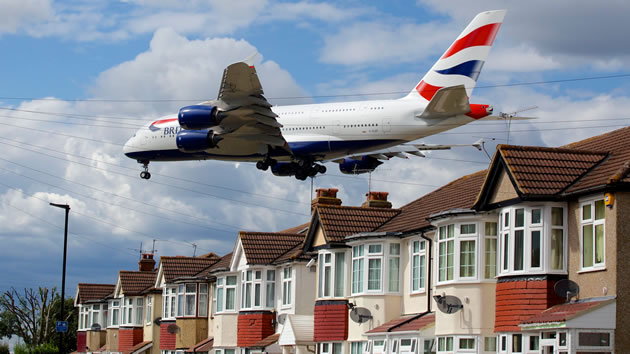 Plane landing at Heathrow. Picture: Ian Wylie
An independent survey by Hounslow Council has shown that more borough residents support a third runway at Heathrow than oppose it. The report suggests that even in Chiswick, the only part of the borough where there was more opposition than support for airport expansion, the majority of residents are either in favour or have no view.
44 per cent of Hounslow borough residents surveyed support a third runway at Heathrow (including 18 per cent who strongly support it) compared to 29% who opposed it (21% strongly). 25 per cent of residents surveyed neither support nor oppose a third runway at Heathrow.
Residents employed at Heathrow Airport or who have family members who are employed at the airport are more likely to support a third runway.
The survey indicates geographical differences in levels of support and opposition to a third runway. For example, in Central Hounslow 51 per cent of residents surveyed support a third runway and 26 per cent oppose it; while in Chiswick 31 per cent of residents surveyed support a third runway and 38 per cent oppose it. In both areas more than 20 per cent of surveyed residents neither support nor oppose a third runway. There was no area of the borough in which the majority of residents opposed the third runway including Chiswick.
The Council commissions a survey of residents every two years from a professional, independent survey company. This survey captures residents' general views and perceptions of services and facilities provided by the Council and covers topics including local area and council satisfaction, perception and satisfaction of service delivery, communication and local democracy, residents' concerns, community safety, and respect and consideration. As well as asking residents questions about services, this time they also asked for their views on the proposal to build a third runway.
Opinion Research Services carried out the latest survey between 8 September and 18 October 2016 by undertaking 1,207 interviews with residents who collectively provided weighted data which the Council say is representative of the Borough's population. Opinion Research Services' full report will be published with papers for the Council meeting on 31 January.
Should the government decide to go ahead with the third runway, 46 per cent of residents surveyed think the Council should support the government's decision, while 25 per cent think the Council should oppose it. 32 per cent of residents surveyed think the Council should increase its work to reduce the impact of airport-related noise, pollution and congestion locally.
Councillor Steve Curran, Leader of Hounslow Council said, "Our position on Heathrow Airport -- that is, that we would like to see a better not bigger airport -- remains unchanged. As I've said before, the announcement that government now recommends expansion at Heathrow will have a huge impact on the residents and businesses of Hounslow.
"Our main concerns remain noise, pollution and additional congestion. We need to do more on these and so does Heathrow and the Mayor of London. We will continue to work with Heathrow on behalf of our residents and businesses, many of whom are employed directly at Heathrow or are part of the supply chain, to ensure the best possible outcome and to reduce any adverse effects of the government's decision. We have already achieved some local improvements, particularly for our schools, and this work will continue."
John Stewart of anti-Heathrow expansion campaign group HACAN said, "This survey is in line with similar polls carried out over the last few years. They all show that a new runway divides the community and remains hugely controversial.
"It is not surprising that there is strong opposition as many of the people there would be under a busy flight path for the first time."
The government is shortly launching its consultation on airport capacity [the National Policy Statement] which will be another step towards a final decision on a third runway at Heathrow.


January 23, 2017