M25 will not need to close if north west runway is built
Heathrow Airport has dismissed claims by the Mayor of London, Boris Johnson, that the M25 would need to close for up to five years if the option is taken to build a runway to the north west of the present airport.
The plan would require a tunnel for the motorway to be built underneath the runway but Heathrow insist that the existing road will remain open until the underground section is completed.
Boris Johnson has described the option to built a third runway proposed by The Airports Commission as "completely crackers" and he continues to advocate a new airport in the Isle of Grain in north Kent.
He said "What is being proposed at Heathrow is not some oven-ready, easy peasy scheme.
"Both the Heathrow options involve concreting over the M25, probably closing it for at least five years and doing major re-alignments of the M4 of the A113 and we're talking about tens of billions."
A spokeswoman for Heathrow Airport said, "Contrary to recent scaremongering, the option shortlisted by the Airports Commission for a new runway to the north-west of Heathrow would not require the closure of the M25, let alone for five years. The new, tunnelled section would be completed and opened before the existing route was closed.
"Since our original submission we have also improved the proposal so it now makes use of the existing M25/M4 junction, reducing construction disruption still further."
The north west runway would create a flight path over areas currently less affected by aircraft noise including north Chiswick, Ealing and Acton. Proponents of this option say that as the runway is further to the west the noise will be less than currently experienced in flight paths under existing runways.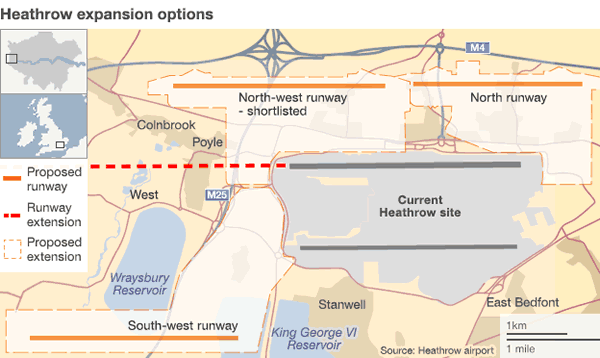 December 23, 2013