"I'm backing Justine" poster campaign appears on tube
A U-turn on a third runway at Heathrow would lose the Conservatives votes. That's the finding of a poll carried out by the campaign group HACAN.
A third of people said that they would be less likely to vote conservative if the party supported a third runway.

The poll was carried out this morning, 23/8/12. 50 people were stopped in the street in Hounslow and 50 in Clapham, both areas under the flight path. A total of 32 said they would be less likely to vote Conservative if the party backed a 3rd runway.

The poll comes amidst increasing rumours that Transport Secretary Justine Greening, a staunch opponent of Heathrow expansion, could be moved in the forthcoming reshuffle to prepare the ground for a u-turn after the next General Election.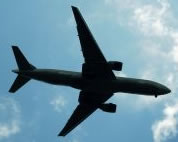 'I'm backing Justine' posters have also been appearing on the underground, thought to be part of a campaign by West London residents to put pressure on David Cameron to keep Greening in post.
Richmond MP Zac Goldsmith has said that he would resign and fight a by-election if the party changed its mind on Heathrow. Today Tim Montgomerie, editor of the influential Conservative Home, tweeted "It'd be wrong to break (silly) promise on 3rd Heathrow runway."
HACAN Chair John Stewart said: "Moving Justine Greening from transport would send all the wrong signals about a third runway. Our poll wouldn't claim to be scientific but it did indicate that any u-turn on a third runway would be a vote loser for the Conservatives. Remember that 725,000 people live under the Heathrow flight path. That's an awful lot of votes in an awful lot of constituencies. The issue goes beyond West London. In a close contest a u-turn on a 3rd runway could cost the Conservatives the election."
August 24, 2012