Hounslow Association for Tourism can tell you all you need to know
Related Links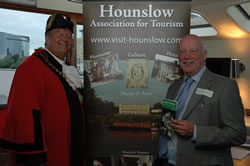 Hounslow's Mayor with HAT Chairman Michael Ryder
Participate
Sign up for a free email newsletter from BrentfordTW8.com and Chiswickw4.com
The Borough of Hounslow is fortunate that it has a remarkable number of attractions from stately homes to nationally important independent museums.
Several years ago a number of these attractions came together to form the Hounslow Association for Tourism (HAT).
At the time Hounslow had dedicated tourism officers who drew together a variety of interested parties representing attractions, accommodation and transport.
In later years the tourism posts were abolished making the need for local 'umbrella' organisation all the more important.
Current membership stands at 25 organisations representing a cross section of the tourist trade in the area including local attractions such as Waterman's Arts Centre, Fuller's Brewery, Chiswick House and Grounds and Kew Bridge Steam Museum.
Further information about Hounslow Association for Tourism can be found at www.visit-hounslow.com

June 20, 2007