As nursery takes legal action against Hammersmith NHS Trust
More than 40 parents and children aged 6 months – 5 years who were evicted from Happy Times Nursery last week staged a protest outside Ravenscourt Park Hospital. Children dressed as superheros and princesses held placards with messages such as "Unfair Eviction", "Let Us Back In" and "We Want to Play".
The group demanded to to meet with Derek Smith, CEO of the Hammersmith NHS Trust, to complain at its intransigence over their situation and ask him to allow the nursery to reopen however, after being met with silence, the nursery has instructed its lawyers to proceed with legal action against the NHS Trust.
"Our decision to litigate against the Trust was not taken lightly but when you receive not even the courtesy of a response let alone some effort to sort matters out, it left us with no choice." said Adam Shaw Chief Executive of Happy Times Nursery.
Persistent late payment of rent has been alleged by Hammersmith Hospitals NHS Trust as their reason for terminating the company's lease. In response Happy Times has highlighted a series of administrative and accounting failures on the part of Hammersmith Hospitals NHS Trust which have on occasion, made it difficult for Happy Times to actually make their rent payments.
Adam Shaw said "Whilst we cannot claim that our administration is always perfect it isn't in the sort of shambles that is clearly a feature of the Trust. And we also feel it is a little choice for them to terminate our lease on the basis of alleged late payment when their published Report for 2005 revealed their increasingly poor payment record."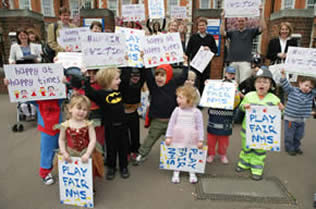 Hammersmith and Fulham Council are offering help to parents who may have been affected by the closure. A spokesperson for the Council said, "We are aware of the sudden closure of Happy Times Nursery at Ravenscourt Park Hospital and will do all we can to help local parents to find alternative places for their children. Our early years service has details of local vacant childcare places. Parents can contact Pat Bunche, head of early years, on 020 8753 3772 or the children's information service on 020 8735 5868."
April 28, 2006