Organisers publish details of road closures needed for three day event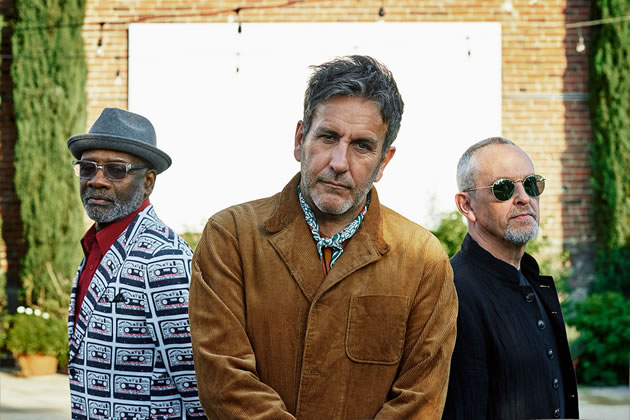 The Specials are to headline Gunnersville
More details have been released about arrangements for the Gunnersville festival which is due to take place in Gunnersbury Park from Friday 6 to Sunday 8 September.
It is a new concert series and will be headlined by Doves on Friday along with Echo & the Bunnymen and Badly Drawn Boy. The Specials will appear on Saturday with Ocean Colour Scene, General Roots and The Blinders. And on Sunday You Me At Six perform with Jimmy Eat World, Deaf Havana, Sundara Karma, The Maine, As It Is and Milk Teeth. The event curfew is 10.30pm on Friday and Saturday and 10.15pm on Sunday.
The organisers have written to local residents giving them more details of the event and the likely impact before during and after the event.
They say their provisional start date for the build period is Friday 30 August, with daily working hours from 8am – 8pm and the de-rig will be completed by Friday 13 September 2019.
A residents' meeting is being held on Friday 23 August in Gunnersbury Park Museum at 7pm, where the organisers will be in attendance to answer any questions.
To reserve your place, visit the booking page.
They will be carrying out sound system checks for short periods on Thursday 5 September in the afternoon/early evening finishing by 6pm and on Friday 6th September between 12 noon – 1.30pm. There will be daily sound checks between
2.30pm and 3.30pm on Friday 6 and Saturday 7, and between 11.30am and 12.30pm on Sunday 8 September.
The organisers say they have located noise sources onsite to minimize disturbance to the local community but should you have any questions or concerns you can call them on 07756 571 288.
They are running a ticket ballot for Gunnersville where residents can win a pair of tickets for their chosen event day. Visit this website for further information.
The deadline for submission is 11.59pm on Sunday 1 September. Successful candidates will be notified by Tuesday 3 September.
There is no parking onsite for concert goers (other than a limited amount for disabled concert goers) and the audience will be encouraged to use public transport.
Roads where access and parking will be open to residents only are listed below. Closures will start as the site opens each day and most will finish at 8.30pm although some will remain closed until 11.30pm..
Alders Close, Almond Avenue, Ash Grove, Aspen Close, Baronsmede, Beech Gardens, Berry Way, Blossom Close, Boddington Gardens, Carbery Avenue, Cedar Grove, Cherry Close, Chestnut Grove, Copperfields Court, Durham Road, Elderberry Road , Gunnersbury Crescent, Gunnersbury Drive, Gunnersbury Gardens, Hawthorn Gardens, Kingsbridge Avenue, Knight's Avenue, Lilac Gardens, Limes Walk, Lillian Avenue, Lionel Road North, Manor Gardens, Manor Way, Maple Grove, Olive Road, Palm Grove, Park Drive, Park Place Drive, Park Place, Park Way, Princes Avenue North, Princes Avenue South, Princes Way, Ridgeway Drive, Rose Gardens, Rowan Close, Sunderland Road, Sycamore Avenue, The Ridgeway, Triangle Way, Tring Avenue South (from Evelyn Grove south),Tudor Way, Walnut Close, Walnut Court, Willow Road.
Residents can access their road and park by displaying an access pass on their dashboard from 3.30pm on Friday 6 September through the rest of the weekend.
If you need more access passes, follow this link and complete the form or text 07928 288 976 with your name and address or alternatively email communityliaison.gunnersburypark@festivalrepublic.com with your name and address and they will be sent to you.
Emergency services access will not be affected and staff on the road closures will be briefed to allow through delivery drivers in branded vehicles and 'use their common sense'.
Roads where access may provisionally be suspended for both residents and non-residents
• Gunnersbury Lane will be closed between 8.30pm and 12am on Friday 6, Saturday 7 and Sunday 8 September from the North Circular to Bollo Lane on a daily basis to facilitate safe crowd movement to Acton Town Station at the end of the concert - the closure period will be reduced if circumstances allow at the time. Due to this closure, parking will also be suspended along the existing bays on the north and south side of Gunnersbury Lane from the North Circular to Bollo Lane throughout the period Friday 6th September to Sunday 8 September.
• As Gunnersbury Lane closes, the closures on Ridgeway Drive, The Ridgeway, Park Place Drive, Princes Avenue south at the junction with the North Circular will come off meaning that residents of Gunnersbury Park Garden Estate
that normally would access their roads via Gunnersbury Lane can use routes via the North Circular and vice versa.
Buses serving stops along Gunnersbury Lane will be temporarily rerouted during the Gunnersbury Lane closure.
There is a taxi rank onsite and all taxis will be advised of this location. The organisers have liaised with uber to put in place a geo fence meaning any requests from uber from concert goers will be redirected to the onsite taxi rank and won't allow pick up points to be confirmed at any other location within the geo fence.
Up to date information will be included and updated on this link. The licence allows for this music festival to be repeated annually on any two consecutive three-day periods (Friday, Saturday, Sunday) between 1 September and 30 September in any calendar year, with future dates for each year to be agreed at least 6 months in advance of the date of the event with the licensing authority.
The revenues from the hire of the park will go to Gunnersbury Estate CIC, the Community Interest Company that manages the estate.
August 20, 2019