Animatronic beast display was expected to attract 6,000 visitors a day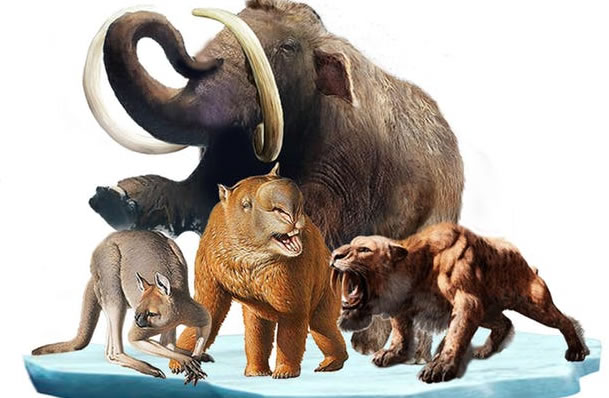 Images from the publicity material for the event
An ice age animatronics experience which was due to take over much of Gunnersbury Park this month and attract up to 6,000 visitors a day has been postponed. Hounslow Council say the planning application submitted to enable the event was too late to allow it to proceed.
The set up for the event was due to start next week and it was to run through to 2 May. Currently tickets for all the days the event is taking place are showing as unavailable and the organisers are offering refunds to anyone who has already purchased tickets.
Ice Age: The Lost Kingdom would have seen the installation of 40 installations of animated life-sized beasts in an enclosed area of the park. The organisers had made an application for planning permission for a temporary change of use for the park last month. The event would have taken over much of the central area of the park which used to form the pitch and putt.
It was anticipated that up to 6,000 people a day would have attended the event which is aimed at a family audiences.
Visitors would have come face to face with huge Ice Age beasts including the Woolly Mammoth, Smilodon (Sabre Toothed Tiger), Cave Lion, Woolly Rhinoceros, Mastodon (giant elephants), Megatherium (Giant Sloth), Short Faced Bear, Giant Beaver and many more. They are bought to life through animatronics, which include moving arms, tails swaying side-to-side, heads moving up and down, eyes blinking and jaws opening wide with roaring sound effects.
The organisers are Weli Cultural Alliance, a London based company believed to be Chinese owned, which organised the Magic Lantern Festival in Chiswick House Grounds for several years. Chiswick ward councillors have warned Gunnersbury Park's management team, and the park's event planner, about the alleged failure of the organisers to clear up after events in Chiswick House.
Councillor Steve Curran, Leader of Hounslow Council said, "With regard to the Lost Kingdom of the Ice Age at Gunnersbury Park, I have been advised that the planning application is still ongoing and has not yet been withdrawn.
"However, a requirement of the organisers was that they needed to secure planning permission for the event to proceed.
"Unfortunately, despite council planning offers advising the event organisers of the timetable that was necessary the planning permission was not submitted in time, their application was submitted far too late, just eight weeks before the event was due to start.
"The organisers were completely aware that the need to determine this application at committee would likely mean the event would not be able to start on the date advertised, and they accepted this and advised our planning officers last month that they had contingency plans in place for this eventuality."
A spokesperson for the event organisers said, "Weli Cultural Alliance would like to offer its sincere apologies to all customers that had booked tickets for the London event. Sadly, due to problems related to gaining planning permission from Hounslow Council to hold the event at Gunnersbury Park, we have had to postpone the London event until further notice. We have every intention to come back to London and will announce this when we have new dates confirmed. All customers will get a full refund on their tickets. Please email info@iceagekingdom.com with your full name and order number and our customer service team will arrange the refund for you."
We have asked the management of Gunnersbury Park for comment.
March 28, 2019