But more closures likely next year for work on reconfiguration of the North Circular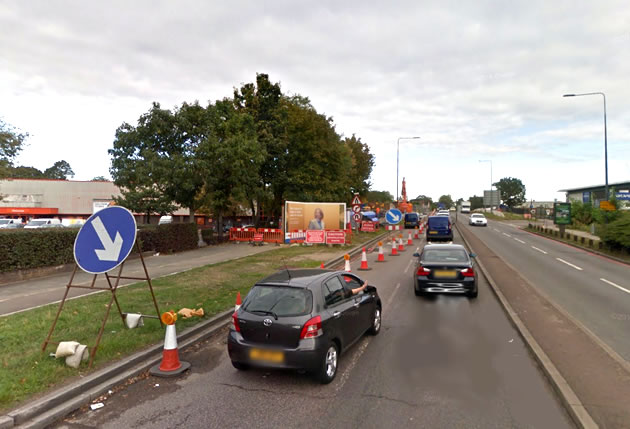 Gunnersbury Avenue north of Chiswick Roundabout. Picture: Google Street View
The much delayed Power Road Bridge project on Gunnersbury Avenue is due to take an important step forward with the reopening of a northbound lane close to Chiswick Roundabout.
The reopening, which is nine months being schedule, will reduce traffic congestion on the A406 North Circular. Transport for London (TfL) say that all four lanes on the road will be operational on 22 November.
However, at the same time they have announced that work to alter the layout of the road between Chiswick Roundabout and Popes Lane will mean further road and lane closures on this stretch in the new year.
Construction activity will continue on the Power Road Bridge replacement into 2019 while TfL finish rebuilding footways, cycle tracks and verges on both sides of the road.
They will also complete works to the underside of the bridge and railway embankments. These works may not be visible from street level.
TfL have announced they will be making a number of changes to the A406 Gunnersbury Avenue between Chiswick Roundabout and Popes Lane from the New Year. They say they have developed these changes in response to a number of severe collisions and near misses along this particular section of the A406 North Circular.
The scheme includes:
• extending the central reservation island on Gunnersbury Avenue, between Power Road and the footbridge by Park Way
• separating opposing lanes of traffic so vehicles cannot use oncoming lanes to overtake
• removing the risk of collisions involving right turning vehicles
They also plan to permanently reduce the speed limit from 40mph to 30mph along this stretch of road bringing it into line with the speed limit of adjoining sections of the A406 North Circular.
TfL originally planned to start construction in summer 2019. However, they now say that in order to minimise the overall impact of construction on residents, businesses and road users, they have decided to begin that work in January 2019, to take advantage of the traffic management already in place for the Power Road Bridge works.
During the seven month construction period for the Gunnersbury Avenue scheme, the traffic management will be altered periodically to reduce the available traffic lanes.
A spokesperson for TfL said, "By bringing the two projects together we remove the need to set up a new construction site and traffic management next year. This will also save time and money by shortening the combined programme of works for both schemes."



November 8, 2018