Socks and sandals top the poll
Socks and sandals are ranked the worst mistake a holidaymaker can make, and exposed beer bellies are not popular either in a new poll highlighting the woeful dress sense we often exhibit away from home.
Londoners appear to have escaped the critical survey which shows tourists from the Midlands have the worst dress sense.
The poll by the website DiscountVouchers.co.uk gathered the views of 600 people on what they thought of fashions worn by British holidaymakers.
Small and skimpy men's swimming trunks ranked as a bad error, as did women's thongs, sunburn and clothing with too many logos on. One third reckon that women should not wear football shirts on holiday, and one fifth say men shouldn't either.
People from Birmingham and the Midlands are the worst-dressed on holiday, with people who come from Newcastle and the North East, Scotland, Essex and then Manchester and the North West all coming in next. Those people from Yorkshire and East England were reckoned to be the best dressed when on holiday.
The survey revealed that the worst dressed nationality when on holiday is the Americans, with the Germans, the Greeks and the British all following them. The poll showed that the Italians and Spanish are the most fashionable when away.
83% of people (92% of men) believe that women are better dressed on holiday than men, even though men spend more money on new holiday clothes (43%) than women (32%) do. 57% of men and 68% of women say that they wear clothing on holiday that they've owned for 5 years or more.
The poll also revealed that two thirds of people buy new clothing for a holiday if they look good on them, while 1 in 5 say that price is the biggest factor in buying holiday clothing. 14% of tourists say that they spend under £50 on a holiday wardrobe while 70% of people admit to spending between £50 and £200 on holiday wear. 2% say they spend over £500 for holiday clothing.
Other items mentioned in the poll results included trunks and swimsuits which turn see-through, Miami Vice-style trousers, too-tight swimsuits and even a mankini (as modelled by Borat below)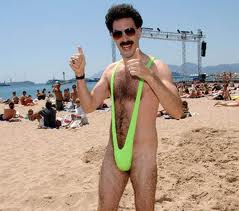 25 August 2010