By launching 'Open For Dogs' sticker campaign for local businesses
Related links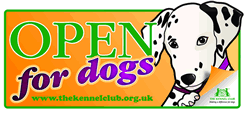 For further details of the campaign and which businesses are supporting it see Kennel Club
Ever tried to take your dog for a walk to pick up some essentials from the shops, only to be faced by the problem of not being allowed to take your dog in?
Restrictions for dog owners on where they can take their dog seem to be an ever increasing daily dilemma, which is why the Kennel Club is launching its 'OPEN FOR DOGS' sticker campaign this November 10th and 11th at Discover Dogs in Earls Court.
According to the Kennel Club, millions of dog owners would benefit if more places allowed dogs - and so would the businesses. "From cafes, restaurants, libraries and shops to taxis, road recovery companies, offices and more. These are places we all go to, and need to go to, and why should dogs not be allowed to accompany us, as well behaved dog citizens?" said a spokesperson.
"Dogs are good for us. It is a well known fact across the health industry, that owning a dog enhances your life. They do this by giving vital companionship, creating new relationships, bonding families, reducing stress levels, and increasing the amount of exercise taken.
Most people feel as dearly towards their dog as if it were a member of the family. However 43% of dog owners taking part in a recent Kennel Club survey are concerned about combining their work commitments with owning a dog; just 11% of the people surveyed currently take their dog to work.
The Kennel Club has created campaign stickers which are freely available to all businesses which allow dogs. Places which display this campaign sticker 'Open for Dogs' and allow dogs, will benefit from encouraging more visitors and their dogs. Contrary to popular belief, it is not illegal to take dogs into restaurants and pubs etc.
Places which allow dogs and display the sticker will also be listed on the Kennel Club website – providing a centralised and useful service for all those who want to go about their daily lives with their dogs alongside.
These stickers are available from the Kennel Club. To request a dog sticker, and to support the 'Open for Dogs' campaign, get in touch via their website.

November 8, 2007