Halloween Night sexual assualt on 14 year old girl near Ravenscourt Park
Police are appealing for witnesses and information after a teenage girl was seriously sexually assaulted on Halloween, 31/10/02, between 20:30 and 21:00 in the proximity of King Street, Hammersmith.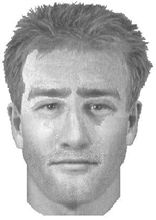 The suspect is described as a well spoken white male, approx. 40 years old, 5'8"-5'10" tall of muscular build with brown eyes and brown greying hair. He was well dressed in a black suit, white shirt and black tie; he was also wearing shiney black leather shoes and a silver metal bracelet on his left wrist.
The suspect's car is described as a black coloured 'top end of the market executive style' car with blacked out windows. It had cream and beige leather upholstery and a silver trim on the exterior windows. The car is also believed to be a four-door automatic.
The two victims, aged 13 and 14 years old, were out with a group of around 10 friends 'trick or treating' in King Street, Hammersmith when they came into contact with a large group of boys who were also dressed up in costume for the Halloween celebrations. The boys began throwing fireworks causing the group of girls to disperse. The two victims took refuge in UCG cinema on King Street and became separated from their friends.
The boys were sent away by cinema staff and this allowed the girls to leave and try to catch up with their friends. The two girls left the cinema and began walking up King Street. After about 50 yards the girls came into contact with another group of boys, three black males and two white males. These youths began pestering the girls and surrounded them. As this was happening a black car pulled up and the five youths ran off.
These boys could hold vital information and it is imperative that they contact police immediately.
The male driver of the car got out and suggested he took the girls to a place of safety. The victims willingly entered the car however, the man then produced a flick knife and centrally locked the doors so they were unable to escape. Having driven the girls a few yards westbound down King Street, the suspect parked in Ravenscourt Avenue. He threatened both girls before dragging the 14 year old down Ravenscourt Avenue towards the entrance of Ravenscourt Park where he raped her. The victims were then driven back to where they had been picked up and dumped. They were then found by a friend's mother who had gone looking for them.
DC Mike Duncan of Hammersmith CID who is leading the investigation said: " This was a horrendous assault on a very young girl. It is particularly disturbing that the man they looked upon as a good Samaritan used the situation for his own depraved attack. The abduction of these two girls in a busy west London street highlights the danger and children should never get into a strangers car for whatever reason. The assistance of the public is vital in this case and I appeal to anyone with information which can help us to catch this man to come forward as soon as possible".
Anyone with any information is asked to contact Hammersmith CID on 020 8246 2613 or if you wish to remain anonymous call Crimestoppers on 0800 555 111.