Go one better than last year in tournament at Lord's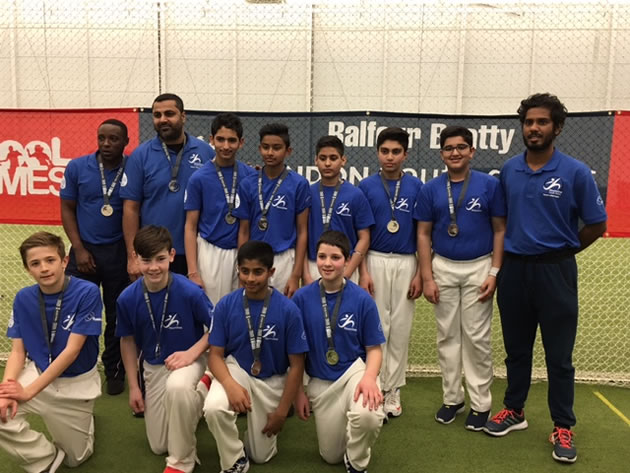 Hounslow Borough cricketers reached the final of the London Youth Games last Sunday. The event was held at the MCC Indoor Academy at Lord's Cricket Ground. Hounslow comfortably knocked out Harrow Borough and Tower Hamlets on the way to the final.

They played Redbridge Borough in the final but failed to deliver a victory after a major batting collapse. Redbridge were able to comfortably reach Hounslow's total of 75 without the loss of a wicket.

Coach Karl Sylvester (top left), who is also head coach at Chiswick Cricket Club based at Dukes Meadows was really pleased with the team's performance. "It was a fantastic performance by the boys. After coming third in 2015 it was nice to go one better and finish in the runners-up slot this year".
As the team proudly collected their silver medals they were reminded that they had finished second in a London-wide tournament that had been fought among all thirty two London Boroughs.

Karl went on to explain that the number of cricket clubs in the area is quite small compared to neighbouring boroughs which makes the boy's achievement even more impressive.

With the cricket season drawing near he was quick to point out that Chiswick Cricket Club (formerly Turnham Green & Polytechnic CC) is an ideal centre for juniors to refine their cricketing skills. "We currently have a juniors section that takes children from the ages of 5 to 15 years old. Any parents who would like their to child to take part in the 2016 season should contact the Juniors Manager, Jim Yorath at jim@reci.pe "

Cliff Sykes
March 5, 2016