Supersonic Jet Makes its Last Trans-London Journey in a Barge on the Thames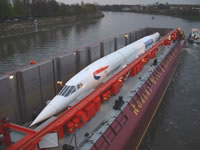 Concorde was given a farewell round of applause as she swooped through west London for the final time.
Hundreds of people crowded on to Kew Bridge to watch the aircraft's last journey - by river, transported on a giant barge called the Terra Marique.
After decades of flights over the area, the supersonic jet's progress was more stately, on its way to a last resting place in Scotland.
After clearing Kew Bridge, the heavy lifting vessel sounded its hooter several times in thanks to the spectators, with the crew waving goodbye after over a week moored in Isleworth.
Those on the bridge and lining the shore responded with a spontaneous round of applause. Many then moved on to Chiswick Bridge as the barge passed under around 7pm on Easter Monday.
Designed to carry loads of up to 1,200 tonnes, the revolutionary pontoon was sailing to a special Concorde photocall by the Houses of Parliament, before continuing its voyage by river and sea.
G-BOAA – the first British Airways Concorde to start commercial flights in 1976 – was partially dismantled at Heathrow before embarking on its last journey to the Museum of Flight near Edinburgh.
Part of the plane's wings and tail were removed for the Thames and North Sea trip, but fans of the aircraft were still able to see its distinctive nose cone.
The Concorde is the last of a fleet of aircraft to be put on display after commercial flights ended in October last year. British Airways cannot fly the jet because it no longer has a valid flight certificate.
BA decided to use the new pontoon, designed by a Staffordshire company, to avoid long delays associated with a slow-moving wide load on the road.
Other Concordes have already found homes in Bristol, Manchester and at Heathrow. Two are now in American museums and one has a new home in Barbados.
You can link here to more photos at:
http://chiswicksphotos.fotopic.net/c144414.html
April 13, 2004