Police operation involving helicopter and dog unit ended with vehicle crash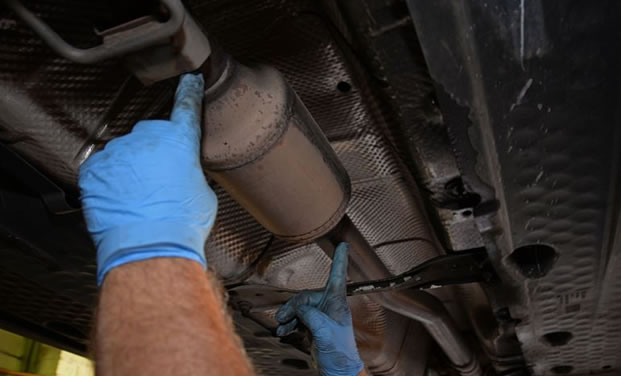 Catalytic Converter. Picture: RAF Mildenhall
Related Links
Participate
Comment on this story on the forum
Police have arrested four men following an operation to combat catalytic converter thefts throughout West London.
The news was released via the OWL neighbourhood watch system which reported that the arrests followed a police chase involving the helicopter and dog units.
The notification reads:
'' You may be aware that West Area (Ealing, Hillingdon, and Hounslow) has seen an increase in catalytic converter thefts over recent months and a considerable number of vehicles that has been affected.
Many of the victims were registered on OWL and had also registered on OWL CCTV register to indicate to the police that they had video doorbells and CCTV systems. Imagery taken by the Police as evidence from these victims had showed masked suspects and the vehicle they were using, a grey VW Golf.
A few days ago, in the early hours, following an offence just outside High Wycombe, a grey VW Golf was captured on resident's CCTV changing its number plates on Ickenham Ward. This was immediately reported to the Metropolitan and Thames Valley Police.
Lunchtime, 12 February, Metropolitan Police units working closely with individual NHW members on high alert for this bandit vehicle, saw the vehicle in the Ruislip area containing four male occupants.
A chase ensued involving Metropolitan Police Interceptor Units, with air support from India 99 the Police Helicopter and from dog units. The vehicle crashed up near Swakeleys Roundabout and, after a chase on foot, all four males were arrested.
The VW Golf was taken in a burglary in the Surrey area and has been involved in serious crimes including at least 15 catalytic converter thefts in the Metropolitan Police area, and more in the Thames Valley Police area.
The car contained balaclavas and equipment used in the commission of offences.
All four men remain in custody and have been transferred to the Thames Valley Police area, where other serious crimes are under investigation by detectives there.
This was a superb result and shows the benefits to the Police of the OWL CCTV Register, and the close working relationship between Neighbourhood Watch members and our Police across borders - very well done to all officers involved.''
Owl Messaging
February 17, 2020