Industrial action by London United drivers set to continue into May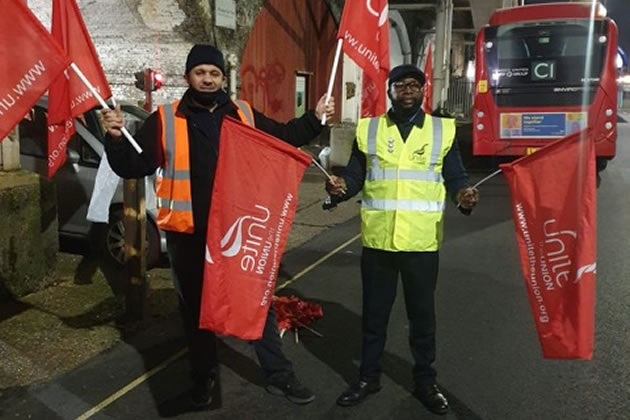 London bus drivers from Shepherd's Bush taking strike action
The dispute between drivers at London United and the bus operator RATP looks set to continue with no indication that that a settlement has been reached.
After the latest day of disruption on Thursday 15 April, further strikes are planned for Friday 23 April, Monday 26 April, Friday 7 May and Saturday 8 May.
Earlier this month drivers at the Stamford Brook and Hounslow Heath garages voted to joint the dispute meaning that all seven London United garages will be on strike. This means more routes will be affected than during industrial action at the beginning of the dispute.
Negotiations broke down earlier this month when the company's proposed pay offers to resolve the 2019 and 2020 pay claims were below the drivers' expectations. Their union Unite is claiming that management tried to insert controversial clauses into drivers' contracts.
The drivers at Stamford Brook and Hounslow Heath, both initially voted for strike action but were unable to join the other London United garages as they failed to reach the level of turnout for the vote which is required by law. A reballot saw this hurdle reached at both garages.
Unite regional officer Michelle Braveboy said, "This is a significant and welcome development, the strike action will now intensify.
"This vote is a clear message to RATP's management that bus drivers will continue to strike until they secure a fair settlement.
"The drivers who have been considered key workers throughout the dispute are rightly asking how on earth RATP believes it is acceptable to cut drivers' pay in real terms and undermine their conditions, when they have gone above and beyond the call of duty to keep London moving.
RATP said its offer "includes the best possible pay rise above inflation and no changes to terms and conditions", and that its London bus operators have made losses for the last two years.

Routes Affected By The Strike
| | | |
| --- | --- | --- |
| Route | Operator | Type |
| 9 | London United | Day Route |
| 33 | London United | Day Route |
| 65 | London United | Day Route |
| 70 | London United | Day Route |
| 71 | London United | Day Route |
| 72 | London United | Day Route |
| 110 | London United | Day Route |
| 111 | London United | Day Route |
| 116 | London United | Day Route |
| 203 | London United | Day Route |
| 211 | London United | Day Route |
| 216 | London United | Day Route |
| 223 | London United | Day Route |
| 224 | London United | Day Route |
| 265 | London United | Day Route |
| 266 | London United | Day Route |
| 272 | London United | Day Route |
| 283 | London United | Day Route |
| 371 | London United | Day Route |
| 406 | London United | Day Route |
| 411 | London United | Day Route |
| 418 | London United | Day Route |
| 419 | London United | Day Route |
| 423 | London United | Day Route |
| 440 | London United | Day Route |
| 465 | London United | Day Route |
| C1 | London United | Day Route |
| E3 | London United | Day Route |
| H22 | London United | Day Route |
| H32 | London United | Day Route |
| H37 | London United | Day Route |
| H91 | London United | Day Route |
| H98 | London United | Day Route |
| K1 | London United | Day Route |
| K2 | London United | Day Route |
| K3 | London United | Day Route |
| K4 | London United | Day Route |
| K5 | London United | Day Route |
| S3 | London United | Day Route |