Prolific offender gets 3 year ASBO
Related Links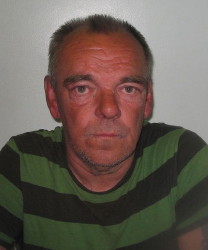 Jeremy Parker
Sign up for email newsletters from ActonW3.com, EalingToday.co.uk,
Participate
Comment on this story on the forum
A persistent offender who has a history of troublemaking on the the Piccadilly line has been given an Anti-Social Behaviour Order (ASBO) banning him from entering the stations where he has committed a string of offences.
Jeremy Parker (55), of no fixed abode, but known to live in Hounslow, was granted the ASBO at Feltham Magistrates' Court on Monday 27 September after a successful application by British Transport Police (BTP).
Parker, who frequently caused a nuisance on the Piccadilly line from Acton Town to Heathrow has previous convictions for ticket touting, loitering, being drunk and disorderly and public order and anti-social behaviour offences.
His ASBO specifically bans him from entering or travelling on a train passing through these stations for three years and will also be breached if he enters the rest of the Tube network for any reason except to purchase a valid ticket and travel to his destination.
Sergeant Ritu Sharma, based at Heathrow police station, said:
"Parker has been a persistent problem on the Piccadilly line around Hounslow for a number of years, loitering in the stations and being abusive to members of the public and staff.
"This ASBO bans him from causing any more problems for passengers and staff using these stations and if he is found hanging around he will be arrested for a breach and put before the courts.
"He has repeatedly been guilty of public order offences stemming from loitering in the stations while intoxicated and I welcome this ASBO which he has been granted."
Mike Maynard, Head of Operational Support of London Underground, said:

"The abuse repeatedly dished out by Parker against our staff and passengers was unacceptable. This ASBO should teach him a lesson and give those working and travelling on public transport a break from his nasty behaviour.

"We will always push for the strongest penalties and this is a good reminder to those people willing to abuse our workers that we will identify them and bring them to justice."
October 6 2010