Resident mourns the demolition of her home she grew up in

When Sue Roberts posted on the forum about seeing her childhood home being demolished, local photographer Jon Perry was so touched he went along to take some images to help preserve Sue's treasured memories.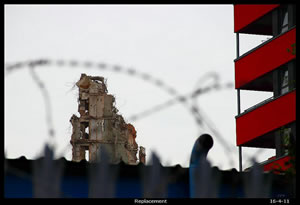 Sue wrote: "My home from the age of six to 22 was in Blackmore Tower, Bollo Bridge Road.
"The council are redeveloping the area, the block is half down our flat on the 10th floor has gone. It was my home, I had a lovely childhood and am feeling very weepy and nostalgic. We moved in when it was new and it was great because it had an inside toilet and hot water!"
In response Jon published some of his images and wrote: "Sue, touched by your story and openness, and also struck by the shapes and colours, I decided to explore. I hope these images are not too painful for you and hopefully you will find interesting."
April 20, 2011