Opportunity to get your work shown at Tate Modern
Related Links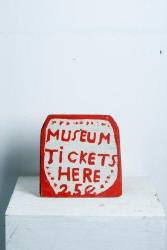 Sign up for email newsletters from
Participate
Comment on this story on the forum

Are you a marginal or self-taught artist? Have you received a 'divine calling' to depict strange new worlds?
Are you an artist with a disability, whose creativity has been undeservedly overlooked? Or a collector with a cache of anonymous doodlings?
If this sounds like you The Museum of Everything cordially invites you to submit a work on paper (or anything small and light) to Exhibition #2, to be held on May 14th, 15th & 16th, 2010, as part of No Soul For Sale at London's Tate Modern.
Exhibition #2 is open to all, non-professional, non - traditional, and non-exhibited artists, living or long gone.

To enter simply turn up at the Tate Modern with your artwork where it will be assessed by our esteemed Board of Trustees. Successful works will be displayed in The Turbine Hall and published in a book of the exhibition.
REVEAL YOUR CREATIVITY AT THE TATE MODERN & EXHIBIT AT THE MUSEUM OF EVERYTHING.

DETAILS:
THE MUSEUM OF EVERYTHING, EXHIBITION #2
WHERE: Tate Modern, Bankside, London, SE1 9TG
WHEN: Friday and Saturday 14th and 15th May, 2010. 10am - midnight
Sunday 16th May, 2010. 10am - 6pm
WHAT: For details and guidance: www.musevery.com
TO ASK US A QUESTION: everytate@gmail.com
May 9th, 2010