Delayed building work leads to take over of the Keens' home
The latest twist in the ongoing saga of the Keens Brentford home is the arrival of squatters on the premises.
Just days after it was revealed that the house had remained unoccupied for up to a year, a group claiming to be campaigning to reclaim taxpayers' money and fighting political corruption have moved in.
Hounslow Council had already given notice to the Keens that they would consider taking over the property if they could not explain its continued lack of use.
Activists, who say they found their way in through an open window, have occupied the house in protest at the number of people for whom the government cannot find accommodation while homes go empty.
The Keen's have said that they were in the process of renovating the house with a view to moving back in but a dispute with the builders had delayed the process.
A formal occupation notice has been fixed to the door and the police have paid a visit but are unable to act.
Ann Keen told us this week, "We had no choice but to halt work on our home because we became very concerned about the quality and standard. We had an independent assessment, which took some time, and we were informed very recently that the company we had been working with had gone into liquidation.
The squatters have posted a message on the Guido Fawkes forum inviting local residents to a barbeque at 2pm.
Speaking by phone one of the occupants explained why they had taken the building and what they wanted to happen.
"We want to get back something that has been taken from us in the expenses scandal. Everyone pays taxes, either directly or through VAT on their shopping - we've all been taken from. There are 10,000 people on the housing waiting list in Hounslow alone – and people like the Keens are spending our money on keeping houses empty."
"Everyone who is needs housing should occupy empty buildings, but as Ann Keen voted in favour of the war in Iraq, displacing and killing millions of people, we demand she gets in touch with refugee centres to make reparations. In the meantime, the house will hopefully become a refugee centre and home to some of the people she made homeless through poverty and war."
The group are asking for donations of food and water, bedding, hinges and screws to be taken to the property at Brook Road South in Brentford.
In a statement issued on Monday Alan and Ann Keen said, "It is our home and has been very special to us for a long time. We find it extremely upsetting to know that our house is occupied by squatters who appear to believe that they are entitled to do what they wish in our property."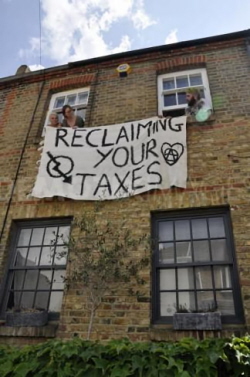 With thanks to Jim Lawes for photos
June 30, 2009