Meerkats, Cider and Marks and Spencers
Related Links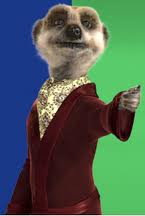 Participate
Comment on this story on the forum
A furry quick-talking meerkat has been voted Britain's 'most-liked' television advert of the year, according to a new survey.
The meerkat ad, featuring Aleksandr Orlov's and his great-grandfather's victory over a mongoose army, was voted the UK's most-liked TV advert of the year.
The Nielsen Company compiled research from 1.5 million votes cast across Britain as viewers watched evening TV.
The scores, based on likeability, were collected across 2010 at the time each new ad was broadcast.
Best Adverts of 2010
No. 1 CompareTheMarket.com
No. 2 Magner's Irish Cider
No. 3 Maltesers
No. 4 Santander Bank
No. 5 Snickers Candy
No. 6 Cancer Research
No. 7 Marks & Spencer
No. 8 Velvet Paper Towels
No. 9 Cushelle Bathroom Tissue
No. 10 Pepsi Max
Do you agree with this selection or do you have another favourite?
20 December 2010