Naked rider displays risks of wearing inappropriate clothing
Related Links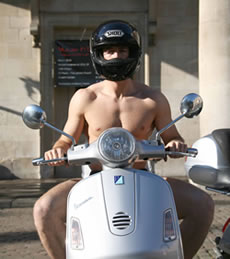 Moped and scooter riders in the borough are being encouraged to wear protective clothing when riding their bikes, in a new road safety campaign run by Hounslow Council and Transport for London (TfL).
The "Right Gear" Campaign will highlight the potential risk to riders of wearing inappropriate clothing when on their moped or scooter, and offers advice on what they should be wearing. The campaign will also feature advice and information for car drivers warning them about the consequences of failing to look out for moped and scooter riders.
In Greater London in 2005, there were 4,978 collisions that resulted in more than 5,000 powered two wheeler user casualties. Seventy-five per cent of these collisions involved one or more cars. Wearing the "Right Gear" could have helped prevent some of the more serious injuries.
Liz Knight, road safety manager at Hounslow Council, said, "Although the number of riders killed or injured while riding scooters or mopeds is going down, there is still a great need to highlight the potential dangers of wearing inappropriate clothing while on your moped or scooter.

"Should you come off your bike even at low speeds the effect on your skin is like scraping along a giant cheese grater. You only have to look around you when you are in London, every day you can see people on mopeds and scooters in work wear, shorts, t shirts and skirts - they don't know the risks or they wouldn't do it.
"This campaign has been designed to highlight these risks and to demonstrate to moped and scooter riders the importance of wearing the appropriate safety gear. We found - during our extensive pre campaign research - some riders complaining that it was 'too hot' or 'too expensive', but what price would you put on your skin?"
As part of the campaign a scooter will be pulling a promotional trailer around the borough and the council's road safety team will be offering advice at a vehicle safety event at Feltham Airparcs on Saturday 17 and Sunday 18 of March. The event will include vehicle safety checks by the AA, window etching and property marking by the Police, driving advice from the Institute of Advanced Motorists, and a reconstruction of an accident involving a scooter and a car.
The campaign will also include posters - one of which features a naked rider - to highlight the campaign message, adverts on Magic FM during key morning commute times, a 'talking' poster campaign in male washrooms in pubs, clubs and shopping centres, leaflets, and a new campaign website - www.rightgearlondon.com. The website will target both driver and riders in an effort to get the message across about the vulnerability of scooter and moped riders.
Mopeds and scooter dealerships have been encouraged to join the campaign to promote this safety message to their customers by displaying the posters and leaflets at their outlets, so riders can be better informed at the point of purchase.

March 16, 2007