Female cyclist from Ealing hit by lorry near police station
Related Links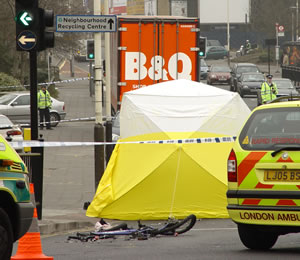 A female cyclist has been killed at the junction of Acton High Street and Steyne Road just outside Acton police station..
An air ambulance landed in Woodlands Park near Crown Street attended the scene but the woman was pronounced dead at the scene.
The victim was involved in a collision with a B&Q articulated lorry at around 10.30am on Thursday 2nd February.
She is believed to be around 30 years of age and from the Ealing area. She has not been formally identified yet as police are in the process of informing the next of kin.
Any witnesses are asked to contact Sgt Harry Wilkinson from the North West London Collision Investigation Unit on 020-8998 5319.
February 3, 2006