Man Dragged by a Lorry from Wandsworth to Putney
Related Links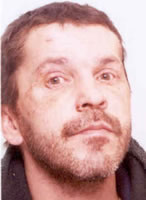 John Tames (above) was dragged for two miles by a vehicle thought to be a red and whilte articulated lorry
Fatal Accident - Goldhawk Road
Police are appealing for witnesses after the body of a man was found on Monday (19th April) night at the junction of the Upper Richmond Road and Roehampton Lane.
They were called at around eight o'clock following a report of a man suffering serious injuries. Although he was tended by London Ambulance services he was pronounced dead at the scene.
Police have formally identified the victim as John William Tames aged 44 of 26 Elliot Court, Garratt Lane SW18. He lived alone at that address. He leaves his mother and two sisters.
This death is being treated as a fail-to-stop road traffic collision. It appears the collision occurred in Wandsworth - possibly West Hill SW18 - and the Mr Tames was dragged - it is thought by an articulated lorry - to Upper Richmond Rd/Roehampton Lane, a distance of about two miles. The articulated lorry is described as having a white tractor unit and a dark red trailer.
Sgt Jim Mills, leading the investigation, said: "We need to hear from anyone who saw the victim in the area of the Wandsworth one-way system between 19.45 and 19.55 on Monday 19/4/04. John was a white man about 5'7" tall, wearing a blue fleece-style top, black jeans and black Dr Marten shoes. He had a grey beard and dark hair".
It is possible that passengers on a Route 37 or 337 bus in the area at the time of the incident may have seen something.
The driver of the vehicle involved might not have been aware of any collision if, as police suspect, the vehicle in question was a large lorry. They are urging the driver to come forward if he has since become aware that he might have been involved".
Anyone with information is asked to call 020-7321 9942; if you wish to remain anonymous call Crimestoppers 0800 555 111.
April 26, 2004