Festival and street party on Saturday
Information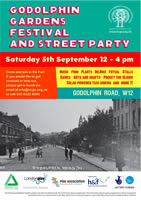 Participate
If you have an event you would like to publicise please email
Goldolphin Road Community Gardens is hosting a Festival and Street Party on Saturday, September 5 from noon till 4pm.
The party, organised by the Hammersmith Community Gardens Association, is open to all and promises highlights such as a solar powered taxi-cinema, Pocket the Clown, five a side futsal and a Dr Bike, as well as food, plants, arts and crafts and lots of stalls.
Godolphin Road Community Gardens is a small garden created from a site that was badly damaged by bombing during the Second World War.
Run by Hammersmith Community Gardens Association, it received a Green Pennant Award in 2003. A sculpture of the Green Man, created for the Millennium celebrations watches over events which, as well as as the festival, include a community composting scheme and a children's play area.
September 3, 2009