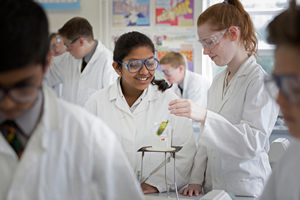 St Benedict's is London's leading independent Catholic co-educational school. Our Mission of 'Teaching a way of living' is at the core of the holistic Catholic education that is provided to boys and girls throughout the School from Nursery through Junior School and Senior School to Sixth Form. We nurture their growth and prepare them for future challenges in an increasingly secular world.
St Benedict's is committed to supporting all children to develop their full potential and has a distinguished academic record. Inspections by ISI (November 2012) and Westminster Diocese (September 2013) have endorsed our success in fulfilling the School's aims and have recognised the many strengths of the School. In December 2013 St Benedict's School was recognised as an Investor in People – Gold, an award held by a select group of fewer than 700 organisations in the United Kingdom. The school welcomes children of other Christian denominations and other faiths.
In the Senior School pupils are encouraged to think and express themselves creatively, to work independently, to take pride in all their achievements and to enjoy the rewards that scholarship brings. High standards are expected, but our pupils are not just educated – they are given the tools with which to attain knowledge and wisdom. In the Sixth Form students are encouraged to take on leadership roles and all contribute to a variety of projects, which raise funds for communities across the world.
There has been huge recent investment in buildings and facilities, including a full size all-weather facility at the playing fields. The latest project, a £6million Sixth Form Centre and Art, Design and Technology building, is due for completion by September 2015.
St Benedict's is renowned for its sporting tradition and has a national reputation for rugby. Whilst promoting the highest sporting aspirations, the school is committed to sport for all. A wide range of co-curricular activities is offered including music, drama and opportunities for Christian service and there are over eighty different clubs and societies. There is something for everyone and all are expected to take an active role.
St Benedict's School is unique. We are a happy, caring community in which pupils can thrive. Come and visit and see what we have to offer. You can be sure of a warm Benedictine welcome.
How do you get in?
Main entry is to Senior School at 11+ and Sixth Form at 16+. There is a smaller intake of children at 13+. Parents are asked to submit a registration form. Full details of the application procedure are on the school website under Admissions. The school welcomes children of other Christian denominations and other faiths. Scholarships and Bursaries are available at 11+ and 16+ entry.
Contact details