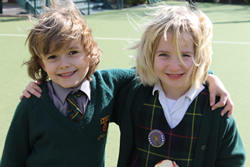 St Benedict's is London's leading independent Catholic co-educational school. Our Mission of 'Teaching a way of living' is at the core of the holistic Catholic education that is provided to boys and girls throughout the School from Nursery through Junior School and Senior School to Sixth Form. We nurture their growth and prepare them for future challenges in an increasingly secular world. The school welcomes children of other Christian denominations and other faiths.
The Junior School and Nursery provide a supportive, friendly and vibrant co-educational environment. Your child's educational journey begins and the seeds of our Benedictine ethos are planted, nurtured and given every opportunity to flourish. In the Nursery a carefully planned and child-centred programme enables and extends learning and development. The Junior School provides a broad and balanced curriculum based on a rigorous academic core and with extensive opportunities in music, art, sport and drama. Sharing excellent facilities with the Senior School and participating in cross-curricular activities helps ease the transition at 11+ to the Senior School.
There has been huge recent investment in buildings and facilities, including a full size all-weather facility at the playing fields. The next project in the Junior School will be a £6million extension to the present building. Work on this is scheduled to start in July 2016.
St Benedict's is renowned for its sporting tradition and has a national reputation for rugby. Whilst promoting the highest sporting aspirations, the school is committed to sport for all. A wide range of co-curricular activities is offered including music, drama and opportunities for Christian service and there is a programme of after-school hobbies.
St Benedict's School is unique. We are a happy, caring community in which pupils can thrive. Come and visit and see what we have to offer. You can be sure of a warm Benedictine welcome.

How do you get in?
Main entry is to Nursery at 3+ and Reception at 4+. There is a smaller intake of children at 7+. Parents are asked to submit a registration form. Full details of the application procedure are on the school website under Admissions. The school welcomes children of other Christian denominations and other faiths.
Contact details