An unmissable rocking charity event in aid of Nordoff Robbins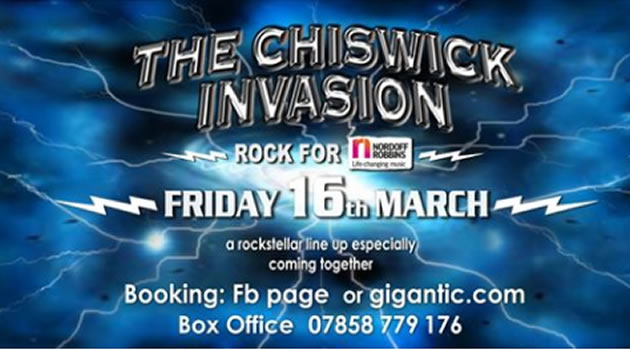 The Chiswick Invasion which was postponed due to bad weather earlier this month has announced Friday 16 March as the new date for the event. The evening will be supporting charity Nordoff Robbins, which transforms lives though music therapy.
Thomas Gers and organising team Liz Gers and Silvia Perett with Toni Corbin and all at Chiswick School ave been hard at work getting the event up and running.
Tickets already purchased and paid for will still be valid. Details regarding this will be provided. You can also contact the organisers via the Facebook page and send a message or an email.
A spokesperson for the event said, "The 'beast from the east' might have got there first this time, but The Chiswick Invasion will take place! A truly cracking line-up will return to bring a superb, exiting and Rocking event … and it's all for a great cause."
Vocalists include acclaimed metaller and TV personality Willy Norton of NeonFly and power rocker Daniel Leigh of New Device. Guitar firecrackers Ben Christo of Sisters of Mercy, Diamond Black and more, Peter Ross for years headliner at Ealing Club, Dave Senczak of supergroup True Brits and rising duo Wild-Heart with Silvia Perett. Grooving on bass, Chris Dale (Bruce Dickinson, Ricky Gervais, Tank,etc.) Darren Redick from Planet Rock (radio station), Matt Young (Hekz, STTH). Returning to roll the heartbeat of The Chiswick Invasion troops are Travis Williams (Mick Ronson, Glen Matlock, etc.) and Moyano El Buffalo (Stone Trigger, STTH). Keyboard wizard Jem Davis for the mighty FM and legends like UFO… and many more.

First up will be bands formed by young students. Then some fun with a band made up of some of the school's staff members followed by a brilliant fundraising raffle. In the central part of the event the rockstellar troops will team up and, eclectic Wild-Heart will warm us up with their altrock, folkrock, then HeKz rising UK Rock band will take us on a prog metal ride, and Men With Beards, the event's ensemble band will bring together musicians of all ages for a set of rock classics, fun and fireworks.
And after the awarding of coveted raffle prices, guest band Shot ThroughTheHeart - that will also be rocking the Stone Free festival after-party.
Tickets £7 for adults and £3 for children and can be bought online or by phoning 07858 779 176.


March 10, 2018