Her work will give a fresh perspective on Shakespeare and Stratford
Local artist and craftivist Carrie Reichardt has been selected as the artist in residence this winter at the Shakespeare Birthplace Trust, the independent charity which cares for the world's greatest Shakespeare heritage sites and collections.
The residency will result in six commissions with a fresh, contemporary perspective on Shakespeare and the people and places associated with his home town of Stratford-upon-Avon. Carrie described it as "a dream project."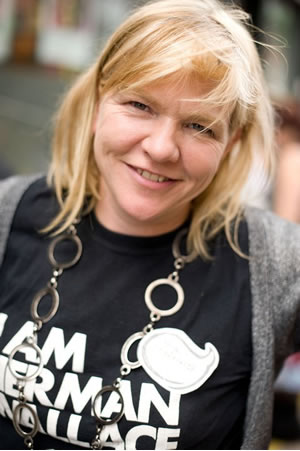 A self-titled craftivist, she uses the craft techniques of ceramic, mosaic and print to create intricate, often politicized works of art. She is famous for her ' mosaic house' in Acton. Her most recently commissioned community project with The Treatment Rooms Collective is a ceramic mural in the new Acton Gardens development, Tree of Life.
Carrie recently collaborated with Chiswick artist Bob Osborne on a book and exhibition, 'Mad In Chiswick'.
Speaking about her new role, she said;"One of my main interests as an artist has always been in facilitating communities to explore their culture and heritage and to find creative ways to represent this rich history. I believe that art is the most powerful tool we have to bring about social unity. This is a dream project because Shakespeare is such a huge subject, a global icon. I'm especially interested to explore new approaches for people who – like me – found Shakespeare hard to get to grips with."
Carrie has been involved in international community and public art projects for over 20 years. Her recent work includes Voodoo Zulu Liberation Taxi, currently on display at Coventry Transport Museum, raising awareness about the inhumane treatment of prisoners held in solitary confinement and death rows. Other prominent public works include Dada the Trojan Horse, Cheltenham Art Gallery and Museum, Disobedient Objects for the V&A, and Mary Bamber – a Revolutionary Woman for Museum of Liverpool. She was awarded the Winston Churchill Travelling Fellowship in 2013 to advance the craft of community mosaics working with local communities in Chile and Mexico.
The Shakespeare Birthplace Trust is collaborating with artists working in different disciplines to explore new creative approaches to public engagement with the five historic Shakespeare family homes, its collections, and its teams. Carrie is the charity's first visual artist in residence. Previous collaborations have included spectacular sound and light shows at Shakespeare's Birthplace, and The Garden of Curious Amusements, an immersive installation and performance by the Bureau of Silly Ideas at Shakespeare's New Place.
Paul Taylor, Acting Director of Cultural Engagement at the Shakespeare Birthplace Trust said, "Working with Carrie Reichardt is an exciting new phase in the development of our creative programming in the lead up to our programme of work as an Arts Council England National Portfolio Organisation from April 2018. As a charity we seek to make the stories of Shakespeare's works, life and times accessible and relevant to people of all ages and backgrounds. It will be fascinating to see which stories will emerge through the lens of Carrie's vibrant, thought-provoking work."
November 13, 2017