Club renews partnership with brewery by signing deal with Asahi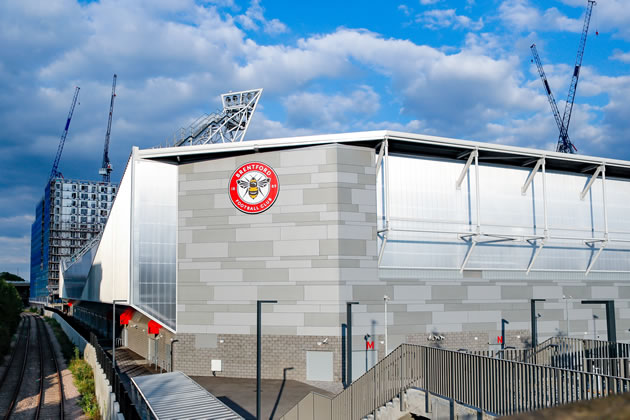 A stand at Brentford's new stadium. Picture: obfcp.co.uk/Mark D Fuller
The long-standing association between Brentford Football Club and the Griffin Brewery in Chiswick looks set to continue.
The club has reached agreement with Asahi, owner of the Fuller's beer and brewing business, to become a Founder Partner at its new stadium less than a mile away from its former Griffin Park home.
The five-year arrangement will see a range of Asahi's brands available for fans of both The Bees and London Irish RFC, who will also play at the stadium, at bars across the venue, both in Premium and General Admission areas.
Fuller's and Brentford have a history that goes back more than a century, to when Fuller's donated a nearby apple orchard to the club, which became their Griffin Park home in 1904 – the name being a nod to Griffin
Fuller's London Pride will take centre stage as the lead brand, and only beer sponsor at the club for the upcoming season. It will be joined by a range of brands from the Asahi portfolio of lagers and ciders, including Grolsch - one of the world's oldest beer brands, with a heritage dating back to 1615. Guinness will also be available across the venue, in addition to the Asahi range.
Jon Varney, Chief Executive at Brentford Football Club, said, "Asahi showed great commitment to us last season, with London Pride the Presenting Partner for our Farewell Griffin Park campaign. We are delighted to have strengthened such a long-standing partnership this summer, with Asahi coming on board as one of our New Stadium Founder Partners."
Tim Clay, Managing Director at Asahi UK, added, "We were proud to be a part of Brentford's final season at Griffin Park, and I'm delighted we'll continue the partnership as the Club moves into its new home. The Griffin Brewery and Brentford Football Club have both been instrumental in shaping the local area's history for generations, as part of the community fabric, and have maintained strong connections. We look forward to continuing this connection as the club enters this new chapter – helping to serve, support and entertain fans, local people and visitors. Best of luck to Brentford for the upcoming season. Here's to the next phase!"

September 30, 2020