First team squad visit distribution centre and donate food and cash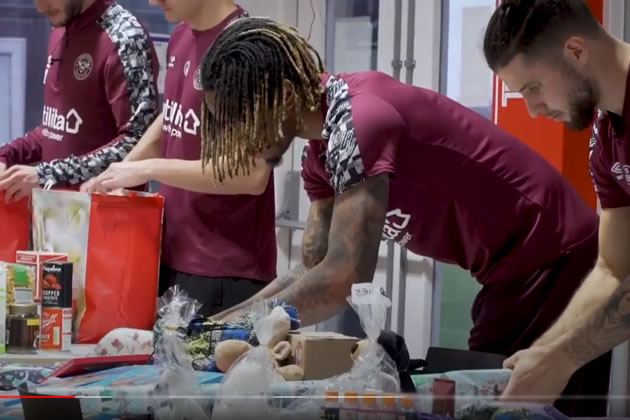 Brentford player pack Christmas hampers for Hounslow Community FoodBox
Brentford Football Club is giving its support to Hounslow Community FoodBox's Christmas Appeal again this year.
First Team players helped to wrap presents and pack hampers at the Club's Jersey Road training ground, and Brentford FC Lifeline Society has donated £3,000 for turkeys and other provisions for the 150 Christmas hampers being prepared by Hounslow Community FoodBox.
Hounslow Community FoodBox has provided over 100,000 meals since the start of the pandemic, a 300 per cent increase on the usual donations, with a third of those meals going to local children.
Brentford FC has developed a strong relationship with the charity over recent years and the players have made donations both of food and money. They have also made regular visits to support and witness the work undertaken by the team of volunteers who provide food and other essential provisions for those in need.
With Covid-19 restrictions making such visits impossible this year, the Club decided to assist in a different way. The Club teamed up with Morrisons supermarket in Brentford and set up a collection point for donations outside the store. Brentford FC Staff and Directors worked with fans to collect donations, with Chairman Cliff Crown and Club mascots Buzz and Buzzette among those lending a hand.
Over the course of two weekends at Morrisons, shoppers – and the supermarket itself – donated £850 and a whopping 2,100 items. The team of volunteers were overwhelmed at the generosity of shoppers including Karen Reader, who kindly left a whole trolley full of groceries with Bees staff.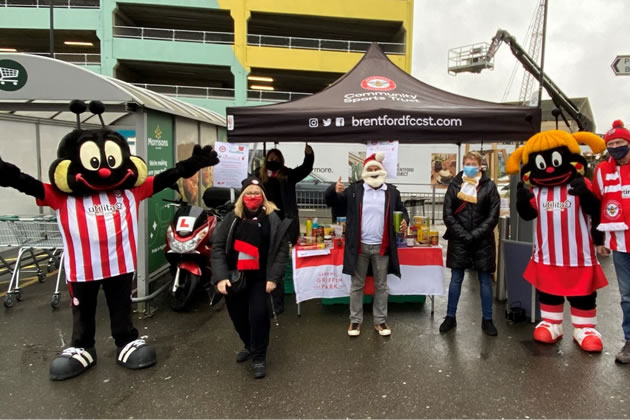 Buzz and Buzzette help with collections outside Morrisons
Brentford FC Player Welfare Manager, Peter Gilham, said, "Brentford Football Club has always been proud to help its local community and we're doing so again this year alongside Hounslow Community FoodBox and Morrisons Brentford.
"2020 has been an incredibly challenging year – Hounslow Community FoodBox has seen applications rise fourfold – so there's a lot of people out there in desperate need. The players themselves made a substantial donation a few weeks ago, and we're asking our supporters for their backing too. Please visit the Hounslow Community FoodBox website and help support your local community."
Hounslow Community FoodBox is looking for more volunteers and donations, particularly of non-perishable items and money to help extend the service they can provide. For further information, email info@hounslowfoodbox.org.uk or visit its web site.

December 17, 2020