Brentford Boating Arch tidied up by volunteers
Ten Loyal Brentford Football Club fans took part in the first ever 'Football Clear-Up' event on Saturday, April 24th at Brentford Boating Arch in a bid to improve the area surrounding Kew Bridge.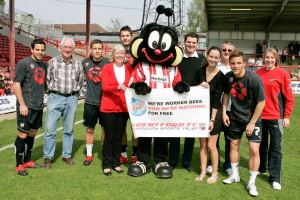 Football Clear-Up volunteers took part in two hours of volunteer work which included sanding, painting, weeding, re-laying the gravel path, litter clearing and sweeping the public pathway. In return Brentford Football Club Community Sports Trust (BFCCST) working with Football Clear-Up donated complimentary tickets to the fans who took part in the 'Clear-Up'.
Two of Brentford's local Police Community Support Officers, Alex Hawkins and Faisal Puttyraj, also came along to lend their support.
Andrew Bell, Managing Director of Football Clear-Up said, "It was great to see local residents come out and help to make the area more attractive. We only had a short space of time to make a difference and I think that we really did that today. Some of the helpers didn't take-up the offer of a free ticket to the game, they were just pleased to be helping out"
Community Sports Trust Chief Executive Lee Doyle said, "Brentford FCCST were delighted to support the first 'Football Clear Up'. The work that the volunteers did on the day really has improved the Boating Arch Facility at Kew Bridge. The event proved a great success and we would welcome the opportunity to be involved with Andy and his team on a bigger scale in the future"
Richard Smith, Secretary of Brentford Independent Association of Supporters (BIAS) said, "BIAS are happy to support Brentford FC and the Community Sports Trust in the local community. Football Clear-Up is a great way for the club to engage with their fans and the local community, and for the fans to represent the club"
May 12, 2010