Pupils from eight local primaries sing favourite songs and carols on famous forecourt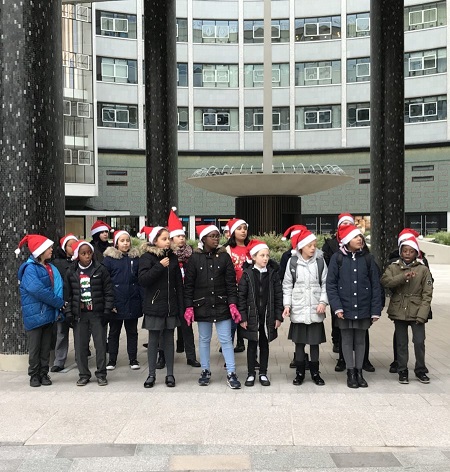 Children from eight local primary schools have been skipping school dinners to bring festive music to Television Centre in Wood Lane.
The children have been performing their favourite Christmas songs and carols on the famous forecourt of Television Centre, with parents, residents, workers and members of the public all stopping by to get into the festive spirit.
Television Centre, the iconic former home the BBC, has undergone a seasonal transformation with decorations adorning the forecourt and an ice rink opened to the public until Thursday 20 December.
The local schools taking part on weekday lunch times are Avonmore Primary, Flora Gardens, Hampton Prep, St Stephens, West London Free and Wormholt Primary.
December 21, 2018