Advertising group Publicis Media to move over 2,000 staff into seven floors of building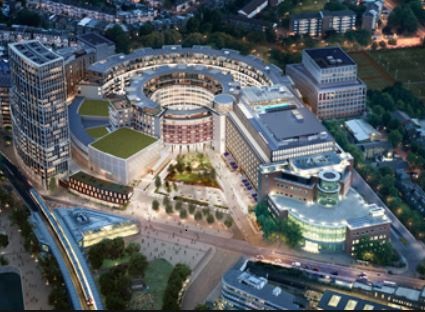 Television Centre in Wood Lane is now fully let, with London's biggest office letting so far this year completed.
The iconic building's owners Stanhope, Mitsui and AIMCo have let a massive 212,000 sq ft - nearly five acres - over seven floors to Publicis Media.
Publicis Media is part of French parent company Publicis Groupe, the world's third largest advertising group.
It is planning to move all six of its UK agencies – Starcom, Zenith, Digitas, Spark Foundry, Blue 449 and Performics – and more than 2,000 staff into the centreby next spring. Each agency will have a separate floor.
Sue Frogley, CEO Publicis Media UK, said: "I'm thrilled the lease has been formally signed as this move will be transformational for our business, talent and clients. We look forward to being part of the dynamic new media hub that has been created at Television Centre."
David Camp, Chief Executive of Stanhope, said: "We are delighted to have completed our lease agreement today with Publicis Media for it to bring its six media agency brands and supporting practices and more than 2,000 staff to Television Centre next Spring.
"The current offices at Television Centre are now fully let and we will soon be announcing further major lettings at our nearby White City Place business and office district.
"The landscape of White City has been transformed and it is now truly on the map as a great place to live, work and visit.
" The site is buzzing with residents living in our apartments, activity from audiences attending shows like Good Morning Britain and Loose Women and ITV Daytime who also regularly film in the forecourt, where we currently have a big outdoor screen for Wimbledon tennis, Royal Opera House and cinema screenings.
"Both Soho House and iconic restaurant Bluebird have outdoor terraces for the summer and the BBC Studios are humming with other flagship TV programmes like The Graham Norton Show."
August 6, 2018