Massive redevelopment of the Grade II listed building gets go-ahead
Wandsworth Council has given the go-ahead to plans that could see Battersea Power Station restored and opened up to the public for the first time. Submitted by Real Estate Opportunities (REO) plc, the plans include a pledge of more than £200m towards a two station extension of the Northern Line from Kennington, as well as a major redevelopment of the site which has been empty since the early 1980s.

A new tube station is to be located at the site with another at Wandsworth Road to serve the eastern part of Nine Elms and surrounding area. The Northern Line extension is key to the council's plans to regenerate Nine Elms and will help kick start major investment projects throughout the area.

The men behind the approved scheme are Irish real-estate millionaires Richard Barrett and John Ronan. Their company, Real Estate Opportunities Plc, owns the site, and has now got consent to build 3,400 homes and 330,000 square meters (3.5 million square feet) of commercial space. The power station scheme would create more than 3,400 new homes and 15,000 new job and training opportunities across the 40 acre site, and would take about ten years to complete.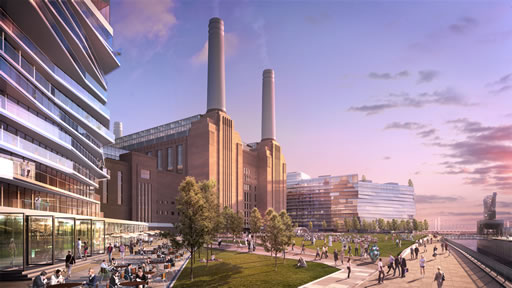 A pedestrian high street and town square are part of the masterplan, with space set aside for new shops, restaurants, bars, cafes, offices, a hotel, cinema and other community uses.

A new section of the Thames Path is to be created along with a five acre riverside park immediately in front on the power station. Other outdoor recreation spaces would be provided as well as cycle paths and pedestrian walkways.

This was the second bid by Barrett and Ronan to get consent to develop the Battersea site they acquired in 2006. The new proposal has rethought the controversial 300-meter (984-foot) glass and steel chimney. Instead The Power Station's two former turbine halls will be used for public events such as conferences and will contain one of the largest ballrooms in London.

Planning application committee chairman Cllr Nick Cuff says:
"This scheme would restore one of London's most iconic buildings and create thousands of new jobs and homes.

"The two Northern Line stations will spur on the regeneration of Nine Elms and bring a huge economic windfall to this part of south London. There is still a great deal of work to be done but this is an important step forward and will give the area's other major investors the confidence to press ahead with their plans."

Before work begins Treasury Holdings, which owns a majority share of REO, will sign a legal agreement pledging more than £211m to improving local infrastructure and community services. Around £203m of this would go towards extending the Northern Line.

Other transport improvements include new bus services, and a new passenger pier to link Nine Elms with riverbus services into central London.

The committee also secured a commitment that works to repair the power station will begin at an early stage of the project and that the building would be structurally secure by the end of 2016, including the complete restoration of the four chimneys.

The powers station scheme consists of four linked planning applications; an outline planning application and three applications for listed building consent. All four were approved by the committee.

Battersea Powers Station is the largest brick building in Europe and has been out of use since it was decommissioned in 1983. It was designed by Sir Giles Gilbert Scott, who also devised the red public telephone box and designed the Tate Modern building.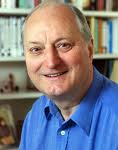 The project has its detractors, as previous plans have failed to materialise, but Richard Tracey , the London Assembly Member for Wandsworth and Merton, says:
"Wandsworth Council's approval of the Battersea Power Station plans means the project has leapt over another highly important hurdle to become a reality.

He continued:
"These plans, if they come to fruition, which I sincerely hope they do, will herald a renaissance of the Nine Elms area and utterly transform this part of the riverside beyond all recognition."

November 12, 2010