The Handbag Spa comes to Chiswick for the first time
Chiswick dry cleaning agent, Top Hat Dry Cleaning, has partnered with the world's most advanced handbag cleaning specialists, The Handbag Spa to offer restoration and cleaning services for luxury leather goods.
The Handbag Spa, which launched in 2012, is the only global handbag cleaning and restoration service for luxury designer brands like Hermes, Louis Vuitton, Gucci, and Chanel. Using exclusive products, specifically developed to remove almost all stains from delicate handbag leather, The Handbag Spa also repairs tears, scratches, and scuffs like-for-like to ensure designer handbags stay looking their best for longer.
Top Hat Dry Cleaners now offers the full suite of exclusive Handbag Spa treatments, including leather and interior cleaning, colour touch up, corner and edging repair, dye transfer removal, mould removal and its most popular treatment, the exclusive HBSpa Ô Clean which brings the suppleness back to dried out leather and cleans even the dirtiest of handbags.
Treatment packages start from £59.95 for The Marbella treatment which includes an exterior cleansing treatment and stain removal followed by a thorough deep hydration treatment to keep the leather supple, an interior vacuum, fabric clean and freshen and your bag filled with acid free paper to assist with reshaping.
Freya Bass, Manager of The Handbag Spa said: "We're thrilled to have presence in Top Hat Dry Cleaners for the people of Chiswick to utilise our exclusive restoration and cleaning services.
"The Handbag Spa is a perfect fit for Chiswick because we know there's a demand for quality service and quality goods, and when it comes to expensive luxury handbags it's important to get it right first time every time!"
Mike Moran, of Top Hat Dry Cleaners, added: "Expanding our services by offering The Handbag Spa treatments means we're now able to offer customers a really unique package that we know is incredibly popular, and in demand.
"People often think that designer handbags have to either be left on a shelf or never used to ensure they don't get dirty, but the services we're offering through The Handbag Spa mean those beautiful bags can be used, loved, and still look amazing!"
The Handbag Spa is a firm favourite with celebrities including Coleen Rooney. It has 80 agents and stockists across the UK, which means wherever you live there will be a dry cleaning agent that provides The Handbag Spa restoration service nearby.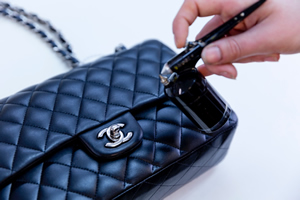 Advertorial
April 20, 2016