Found through the door of the shop one rainy February morning, two of our favourite reviews: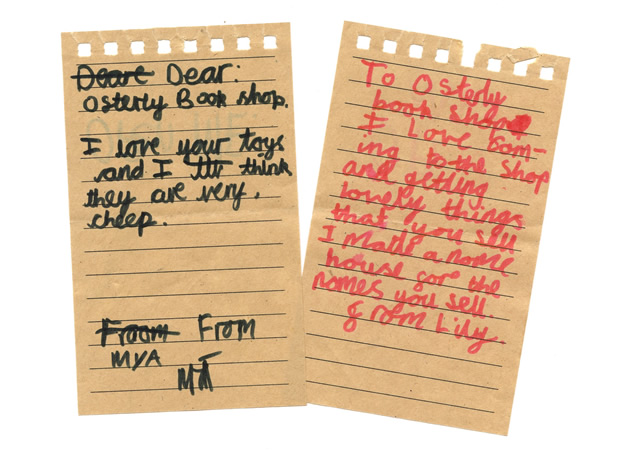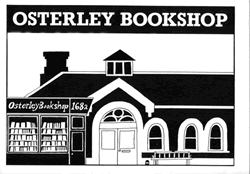 Easy parking.
Only 10 mins away by car. Or take the bus so you can read your purchases on the way home.
Seven days 9:30-5:30.
Situated in the old railway station, 168A Thornbury Road,
Osterley, TW7 4QE.
Tel: 020 8560 6206
Found through the door of the shop one rainy February morning, two of our favourite reviews:
Probably, thanks to Lily, we've run out of 'nomes' – but we do have a large amount of googles (feel free to scan the reviews). For some unfathomable reason the word "eccentric" comes up a lot, a description which could politely be aimed at some of our clientele.
There's nothing like running a bookshop to be pinned to the wall for an hour long lecture on tin mining in Cornwall, "my specialist interest" and "why don't you carry more books on the subject?" (er … maybe not a lot of local interest?) Although, more politely, Conor O'Brien (in Pen Pushers magazine) refers to us as esoteric as in "it's in the more esoteric areas that the shop comes into its own. Not even the biggest bookstore chains can claim to have a 'Cowboys: Fact of Fiction' section, an 'Alcohol' section (see the box by the window) or a shelf dedicated to yetis." Our fault. We're suckers for titles like "Never Trust a Rabbit", "Tiny Ladies", "Blood and Guts is Going Nuts", "The Hair-curl Papers" and "The Montague Puffins – A Short History". All in stock now.
Which brings us round to the spectacular event: our Annual September Sale (that is if you discount our Christmas offering of a free Lucky Dip book with every purchase over £8.50, or as one of our regulars refers to it: "are you doing your usual Russian Roulette this year?" & yes, we will be). However, back to subject in hand – our Big Sale from 1st September to the 30th September when all our books are half price. From Austen to Zoology, from Baking to Yellowstone. If you miss the first days, don't worry, we've thousands of the things and much as we'll be sad to see some of our dustier old friends go to new homes, we'll be jolly pleased to release some of the perkier new (and ancient) books from our over-tottering stock room.
Buy now at silly prices, stock up ready for bunkering down in the cold months, Christmas presents, and treating yourself to books you can't find on the internet because you didn't know they existed – and yes, we do have books on tin mines and with luck "nomes" will be back in time for Christms.
Easy parking (half hour free, and no charges on weekends). Only 10 mins by car and 15 by bus (H91) from Chiswick. Seven days 9.30-5-30. Situated in the old railway station opposite Osterley Park entrance, 168A Thornbury Road, Osterley, TW7 4QE. Tel: 020 8560 6206
Advertisement