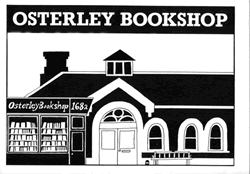 Easy parking.
Only 10 mins away by car. Or take the bus so you can read your purchases on the way home.
Seven days 9:30-5:30.
Situated in the old railway station, 168A Thornbury Road,
Osterley, TW7 4QE.
Tel: 020 8560 6206
Yes, it's that time of the year again … no, not Christmas – better …
It's our SEPTEMBER REVAMP & RENEWAL SALE, and, for this year only ALL BOOKS IN THE SHOP HALF PRICE! That's, as in, all books in shop half price from the 1st to the 30th September.
Although you were great last year: 6/10 (no need to see teacher) staggering off with sack loads of books, we want you to try harder this year as we've done it again! – bought more books than in heaven and earth Horatio, and at the moment these poor things are blinking away in the gloom of our storerooms and they deserve their place in the sun, or, in October, on our shelves at least. (We're not too sure one of our assistants isn't walled up somewhere behind them.)
Everything from first editions, pulp fiction, proof copies, paperbacks, cookery, architecture, archdukes etc., all at half price. Crikey!
We're rubbish at blowing our own trumpet (it's why we run a bookshop, not an orchestra) so, please, check the reviews of our shop on Google, Yelp, Heyshops.co.uk etc. www.penpushermagazine.co.uk/magazine/extracts/article/90/ or www.qype.co.uk/place/171157- Osterley-Bookshop -London http://www.thebookshoparoundthecorner.co.uk/2014/09/lost-in-good-booksho p.html There are some gems in there – although some are frankly puzzling as they point to some form of eccentricity – maybe because we can't resist books like "The History of Margarine"?
We've been featured on 'The Robert Elms Show' BBC Radio London; as The Bookshop in the film 'The Buddha of Suburbia'; and in the Desi Movie "Strangers", featuring Nandana Sen. Despite being two minutes from Robert Adams' masterpiece Osterley House, the Guardian newspaper described us as 'The Jewel in Osterley's Crown'.
Oh, and for non-bookists we've a tiny room stuffed full of curios, and an equally peculiar range of greetings cards.
Easy parking (half hour free, and no charges on weekends). Only 10 mins by car and 15 by bus from Chiswick. Seven days 9.30-5-30. Situated in the old railway station, 168A Thornbury Road, Osterley, TW7 4QE. Tel: 020 8560 6206
Advertisement