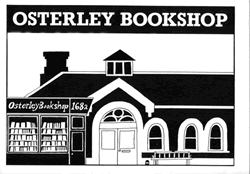 Easy parking.
Only 10 mins away by car. Or take the bus so you can read your purchases on the way home.
Seven days 9:30-5:30.
Situated in the old railway station, 168A Thornbury Road,
Osterley, TW7 4QE.
Tel: 020 8560 6206
We've had our hands slapped by our accountant (again): "can you stop buying books?" Apparently not.
However, having locked yet another customer inside the shop (too many books to spot him. He was philosophical: "nice and quiet, plenty to read"), it's hands up time. Help, we need bailing out, and expect you'd like some books at soppy prices?
We've thousands, at prices from £1 to £1000, but 70% of our books are priced at less than £8 and these (poor orphans) we want to rehouse at half our shelf price (so for the mathematically challenged – that's us, why do you think we run a bookshop? - £7.99 becomes £4 and £3 becomes £1.50).
Everything from Rococo and Orinoco to how to use cocoa. You might have seen the reviews of our shop online - oddly, they seem to feature our signage and/or our shop as 'eccentric' – can't see it ourselves, but they also mention we're worth a visit. Feel free to bring a pantechnicon as there's plenty of space to park and parking's free at weekends.
Looking forward to meeting you.
Oh, and for non-bookists we've a tiny room stuffed full of curios, and an equally peculiar range of greetings cards.
We've been featured on 'The Robert Elms Show' BBC Radio London; as The Bookshop in the film 'The Buddha of Suburbia'; and in the Desi Movie "Strangers", featuring Nandana Sen. Despite being two minutes from Robert Adams' masterpiece Osterley House, the Guardian newspaper described us as 'The Jewel in Osterley's Crown'. For further raves (thank you reviewers) see Google and Yelp, www.penpushermagazine.co.uk/magazine/extracts/article/90/ or www.qype.co.uk/place/171157- Osterley-Bookshop -London http://www.thebookshoparoundthecorner.co.uk/2014/09/lost-in-good-bookshop.html
Easy parking. Only 10 mins by car and 15 by bus from Brentford and Chiswick and 15 mins by car and 20 by bus from Ealing. Seven days 9.30-5-30. Situated in the old railway station, 168A Thornbury Road, Osterley, TW7 4QE. Tel: 020 8560 6206
Advertisement