Established in 1923, Calligaris is a family run business offering an extensive range of luxury products for all areas of the home. Since 2007 the brand has been 40% owned by the luxury goods conglomerate LVMH (Louis Vuitton Moet Hennessy), which has given rise to a new strategy of branding and communication.
As an internationally established brand, Calligaris has started to open mono brand stores across the UK to heighten awareness of the brand. Over the past 2 years Calligaris Interiors have opened 3 mono-brand stores, located in Stanmore, Teddington and Chiswick. Each store is devoted exclusively to showcasing Calligaris products, with a further store due to open in late September in Cheam Village, Surrey.
The latest and largest store to open, situated on the Chiswick High Road, has been trading for 3 months but already business has been brisk, with customers remarking on the wide range of choice available.

With over 800 products in the catalogue Calligaris offers something for everyone, and showcases as wide a range across their showrooms as possible. With the origins of the business in chair design and manufacture, today Calligaris offers the complete home solution with extending tables and modular sofas designed to fit even the smallest space.
The best-selling Airport extending table, comes in a wide variety of toughened glass finishes, including acid etched which is anti-fingerprint, and ceramic stone, where a slab of porcelain is bonded onto the glass, creating a virtually indestructible surface which is easy to clean and totally hygienic, as it does not absorb liquids.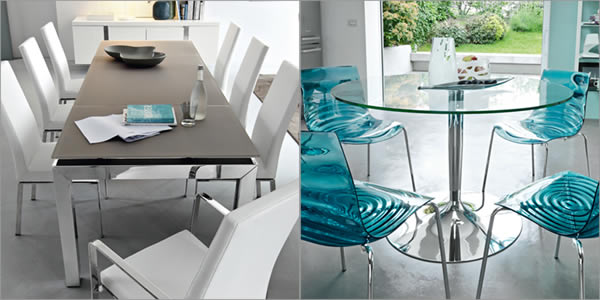 Airport extending table in acid etched taupe L'eau chairs in aquamarine
The iconic L'eau chair, appropriately named as the design resembles the ripple effect made when a pebble is dropped into a pool, is also a best seller coming in 5 transparent colours, of which the aquamarine is the most popular.
Recent collaborations with the Pininfarina Design House have combined Calligaris technology with sleek, cutting edge design resulting in the elegant Orbital table, a sophisticated addition to any dining space, and most recently the Alyon sofa, with its sculptural design reminiscent of luxury Italian cars.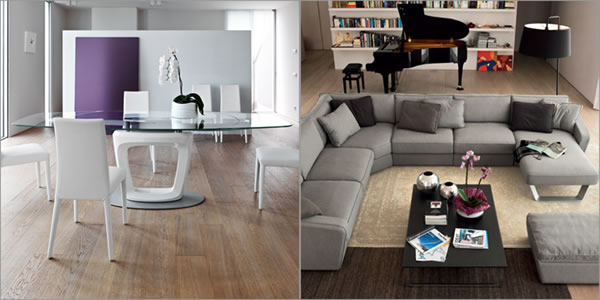 Orbital extending table Alyon modular sofa with chaise longue and ottoman
Stock is sourced directly from Italy, which means the lead-time is typically 6-8 weeks, with upholstery made to order taking around 8-10 weeks. Delivery and installation is included as part of the service, with experienced delivery drivers a part of the same company, trained in assembling the products and offering an overall excellent service.
To extend their gratitude at the warm welcome they have received since taking up their prime Chiswick location, Calligaris are offering 10% discount off all new orders placed until the end of October 2013.
To redeem, please quote the code W4TEN instore, online or over the telephone.
104-108 Chiswick High Road, W4 1PU. Tel: 020 8994 8110. www.calligarisinteriors.com


Advertisement