Britain's biggest beer festival will be at Olympia
More than 800 real ales, cider and foreign beer will be on offer at the Great British Beer Festival, which this year moves back to Olympia.
It's the biggest beer festival in Britain and is expected to attracted 50,000 people to the event, which takes place from August 7-11. It was last in Olympia in 2006 (see below).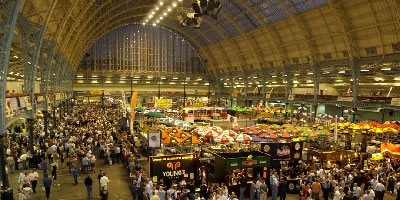 The main attraction is the vast choice of real ale, but there's plenty else going on - including traditional pub games, live music and an extensive range of food stalls.
The Champion Beer of Britain competition will take place on the Tuesday. A blind tasting by a number of real ale writers, journalists and a few celebrities will decide on who is judged the Supreme Champion Beer of Britain for 2012.
Thursday will be the annual Hat Day, with a free pints for those sporting inspiring headgear. Tony Jerome, CAMRA Head of Marketing, and a Hat Day judge, said: "The standard of hats is getting higher as each year goes by. We really look forward to seeing some quality head gear on show this August. Long live Hat Day!"
And there will be no shortage of beer from across Britain, and the world, to pick from at the CAMRA bars. A number of breweries from around the country will be well represented at the Festival with their own bar, including Chiswick-based, Fuller's.
The festival is open as follows: Tuesday August 7 -5pm-10.30pm; Wednesday August 8 to Friday August 10 -12noon-10.30pm; Saturday August 11 -11am-7pm.

July 16, 2012